Another slow week of reading. I admit to feeling absolutely exhausted, and then have been hit by a rather nasty stomach bug that is currently doing the rounds. So instead of visiting my grandson today, I have spent most of the day in bed.
I am a little over half way through
And I am quite enjoying this read.
This week I am planning on reading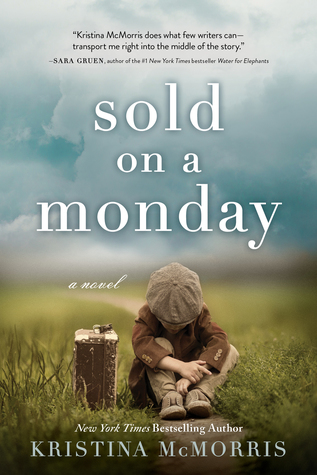 From New York Times bestselling author Kristina McMorris comes another unforgettable novel inspired by a stunning piece of history.
2 CHILDREN FOR SALE
The sign is a last resort. It sits on a farmhouse porch in 1931, but could be found anywhere in an era of breadlines, bank runs, and broken dreams. It could have been written by any mother facing impossible choices.
For struggling reporter Ellis Reed, the gut-wrenching scene evokes memories of his family's dark past. He snaps a photograph of the children, not meant for publication. But when it leads to his big break, the consequences are more devastating than he ever imagined.
At the paper, Lillian Palmer is haunted by her role in all that happened. She is far too familiar with the heartbreak of children deemed unwanted. As the bonds of motherhood are tested, she and Ellis must decide how much they are willing to risk to mend a fractured family.
Inspired by an actual newspaper photograph that stunned the nation, Sold on a Monday is a powerful novel of love, redemption, and the unexpected paths that bring us home.
Sometimes the most enviable life is really a private hell.
On the surface, Sarah Jenkins appears to have it all: a handsome, wealthy and successful husband, a precocious five-year-old daughter, and a beautiful home in an affluent Seattle neighborhood. Her quirky best friend and fellow high school teacher, Maggie, marvels at her luck—and envies her happiness.
But Sarah is far from happy. She feels empty and on edge, harangued by a critical inner voice—and as the truth about her marriage and details of her past emerge, her "perfect" life begins to crumble. But just when it seems all is lost, a long forgotten, unopened letter changes everything, and with the support of friends, Sarah begins to rebuild her life. Can she quiet the critical voice in her head and learn to value herself instead?
I received 6 ARCs from NetGalley this week
This time next week, I will be ensconced with my grandsons being a full time Nana for ten days. I can't wait! They are both bookworms, with sixteen month old Luke having very definite ideas on what he likes to read, and eleven year old Kayden likes finding books for me that I would not otherwise read. He hasn't made a bad selection for me yet.
Although we are now officially in Spring, our weather is still  distinctly wintery. It's cold with heavy rain 😩 The only time I have been warm today is when I have been snuggled up in bed . Speaking of which, I am heading back there now.
Happy reading my friends.