It is the last Sunday of the year . . . I hope you have all had a wonderful year's reading and are looking forward to an even better one in 2019.
2019… good grief, it only seems like 5 minutes since the new Millennium was staring us in the face and we were all worrying about computer systems crashing and major disasters.
I am currently reading
Melville Heights is one of the nicest neighbourhoods in Bristol, England; home to doctors and lawyers and old-money academics. It's not the sort of place where people are brutally murdered in their own kitchens. But it is the sort of place where everyone has a secret. And everyone is watching you.
As the headmaster credited with turning around the local school, Tom Fitzwilliam is beloved by one and all—including Joey Mullen, his new neighbor, who quickly develops an intense infatuation with this thoroughly charming yet unavailable man. Joey thinks her crush is a secret, but Tom's teenaged son Freddie—a prodigy with aspirations of becoming a spy for MI5—excels in observing people and has witnessed Joey behaving strangely around his father.
One of Tom's students, Jenna Tripp, also lives on the same street, and she's not convinced her teacher is as squeaky clean as he seems. For one thing, he has taken a particular liking to her best friend and fellow classmate, and Jenna's mother—whose mental health has admittedly been deteriorating in recent years—is convinced that Mr. Fitzwilliam is stalking her.
Meanwhile, twenty years earlier, a schoolgirl writes in her diary, charting her doomed obsession with a handsome young English teacher named Mr. Fitzwilliam…
And, oh my! This is good. .. a slow burner, but sooooo good!
I am also reading
A serial killer to chill your bones
A psychopath more frightening than Hannibal Lecter.
He has planned well. He leads two lives. In one he's just like anyone else. But in the other he is the caretaker of his family's macabre museum.
Now the time has come to add to his collection. He is ready to feed his obsession, and he is on the hunt.
Jakey Frith and Clara Foyle have something in common. They have what he needs.
What begins is a terrifying cat-and-mouse game between the sinister collector, Jakey's father and Etta Fitzroy, a troubled detective investigating a spate of abductions.
Set in London's Blackheath, Rattle by Fiona Cummins explores the seam of darkness that runs through us all; the struggle between light and shadow, redemption and revenge.
It is a glimpse into the mind of a sinister psychopath. And it's also a story about not giving up hope when it seems that all hope is already lost.
I am reading this after the second book in the series, The Collector, which I loved. I am only 4 chapters into this, and absolutely enthralled.
This week I am planning on reading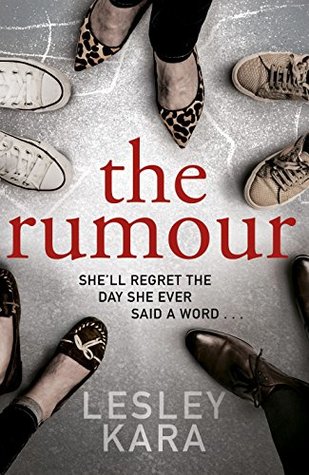 When single mum Joanna hears a rumour at the school gates, she never intends to pass it on. But one casual comment leads to another and now there's no going back . . .
Rumour has it that a notorious child killer is living under a new identity, in their sleepy little town of Flinstead-on-Sea.
Sally McGowan was just ten years old when she stabbed little Robbie Harris to death forty-eight years ago – no photos of her exist since her release as a young woman.
So who is the supposedly reformed killer who now lives among them? How dangerous can one rumour become? And how far will Joanna go to protect her loved ones from harm, when she realizes what it is she's unleashed?
for which I am participating in a blog tour later in the month.
From the #1 bestselling author of Fifty Years of Fear, SHADOWS OF REGRET is the unforgettable story of a woman's struggle to rejoin society.
Katie committed a terrible crime. Sixteen years was the price she had to pay.
Once released from prison, she finds the world has changed.
Isolated and alone, she struggles to make sense of her new life. Starting again isn't easy, especially after what she's done.
Despite not feeling free or safe, Katie overcomes her fears and confronts the future. But history won't remain forgotten.
Gradually, memories of the past are revealed. When Katie finally exposes the awful truth and sees there are others who share the blame, she must choose her path.
Will she seek redemption, or will she take revenge?
I have received no ARC approvals this week. No surprise there as I guess everyone is on holidays, except me. There is a song I love sung by Willy Nelson and Waylon Jennings called 'Mothers,  Don't Let Your Babies Grow Up To Be Cowboys'. I would like to amend that to "Mothers Don't Let Your Babies Grow Up To Work in Hospitality'!
Cheers
Sandy