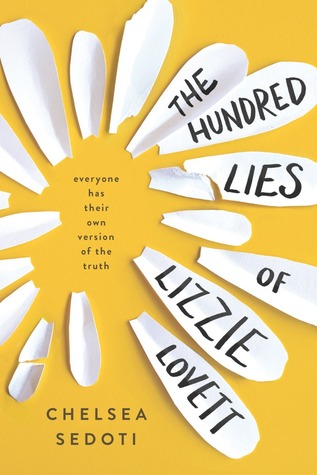 The Hundred Lies of Lizzie Lovett
by
Chelsea Sedoti
(Goodreads Author)
Reviewed by
EXCERPT: The first thing that happened was Lizzie Lovett disappeared, and everyone was all, "How can someone like Lizzie be missing?" and I was like, "Who cares?" A few days later, there was talk about Lizzie maybe being dead, and it was still kinda boring, but not totally boring, because I'd never known a dead person before.
After that, I started to get fascinated by the whole situation, mostly because I noticed a bunch of weird stuff. Which was how I figured out Lizzie Lovett's secret. But I'm probably doing that thing again where I get ahead of myself and skip all over the place, which I'm trying to stop.
So the beginning, or the beginning for me at least, was when I found out Lizzie Lovett was missing. It happened like this: It was Monday morning, and I needed an excuse to stay home. I was dreading school even more than usual, because the Welcome Back dance had been on Saturday, and I was probably the only senior at Griffin Mills High School who didn't go, and everyone would be talking about it while I sat there thinking, Wow, I'm a loser.
THE BLURB: A teenage misfit named Hawthorn Creely inserts herself in the investigation of missing person Lizzie Lovett, who disappeared mysteriously while camping with her boyfriend. Hawthorn doesn't mean to interfere, but she has a pretty crazy theory about what happened to Lizzie. In order to prove it, she decides to immerse herself in Lizzie's life. That includes taking her job… and her boyfriend. It's a huge risk — but it's just what Hawthorn needs to find her own place in the world.
MY THOUGHTS: Oh, the memories, not all of them great, that The Hundred Lies of Lizzie Lovett by Chelsea Sedoti brought back. In the words of Charles Dickens, 'It was the best of times, it was the worst of times.'
It is so easy to forget how self centred we are at seventeen. But don't worry, Hawthorn Creely and her classmates will remind you. I defy you to read this book and not be reminded of your own teenage years. Of course you might not have had a band of hippies come live in your backyard, but no doubt your parents found other ways to embarrass you in front of your peers.
The Hundred Lies of Lizzie Lovett deals with a lot of issues teenagers face; low self esteem, depression, suicide and bullying, both face to face and on social media. There are many good life lessons in this book.
"There's no such thing as a normal high school experience, Thorny. You assume everyone else is happy all he time and living an ideal life. You don't get that other people are pretending too."
"Don't confuse being popular with being interesting"
"Sometimes, there are things that are really hard to do, and it sucks the whole time you're doing them. But you also know it's the right thing, and you might be making a huge difference for someone else."
This was a touching book. It is a book that has a place in every high school library. It is a book that every parent of teenagers should read, so that we can remember what high school was really like.
I listened to this book on audio via Overdrive, very well narrated by Jessica Almasy. All opinions expressed in this review are entirely my own. Please refer to my Goodreads.com profile page or the 'about' page on sandysbookaday.wordpress.com for an explanation of my rating system. This review and others are also published on https://www.goodreads.com/review/show/1627384349