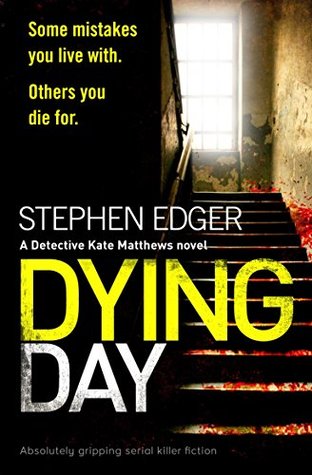 Dying Day: Absolutely gripping serial killer fiction
by
Stephen Edger
(Goodreads Author)

Reviewed by
Sandy *The world could end while I was reading and I would never notice* Jones
bookshelves: 2017, netgalley-arc, new-to-me-author, 4-star,contemporary-fiction, crime, murder-mystery, police-procedural,sandy-s-ng-nirvana, sandy-s-reading-retreat, suspense, thriller
EXCERPT: He pulled back the sheet and for a few cold heartbeats Kate was back in the South London mortuary, and she was staring down at the body of Amy Spencer. She shook her head, and the new victim's face returned to the table. The pale skin clung to the slender frame, save for the patches of yellow and purple bruising around her torso. She couldn't have been much older than twenty-two; such a tragic waste of life.
THE BLURB: Her dark skin looks almost grey; the effect of the elements and death's touch. Her limp body left pressed against a wire fence like trash. I make a silent promise that I will do everything I can to catch the person who did this to her…
Exactly a year ago, Amy, a young detective on Detective Kate Matthews' team, was killed when she was sent undercover to catch a serial killer targeting young girls.
Kate never forgave herself for letting the killer slip through her fingers…
As the case is reopened and the campaign to find the culprit begins again, Kate is told to stay well away, and for good reason: another girl's body has been found.
Kate is determined to connect new evidence to the old to catch this monster before more innocent lives are taken. The trail runs cold when her prime suspect is found dead. But then why is the body count still rising?
The answer is more terrible than Kate could possibly have imagined, and the killer so much closer than she thinks…
MY THOUGHTS: I read Dying Day by Stephen Edger basically in one sitting.
This is a great example of the British crime genre.
The story is told over two timelines and points of view. Amy's starts prior to her death, twelve months earlier, and counts down towards the event. Kate's story is in the present, twelve months after Amy's death, which she is haunted by, her guilt a driving force and coloring all her decisions.
Kate is a very strong character, following her own path irrespective of the restrictions placed upon her by her superiors. But it seems that no matter what she does, the solution to the riddle of Amy's death remains just out of reach.
Dying Day is full of twists and turns, and although I had my suspicions as to the identity of Amy's killer, I had no idea of the motive nor the means, and my suspicions were not confirmed until right at the end.
Fast paced and action filled, Dying Day is a solid ☆☆☆☆ read.
Thank you to Bookouture via Netgalley for providing a digital copy of Dying Day by Stephen Edger for review. All opinions expressed in this review are entirely my own. Please refer to my Goodreads.com profile page or the 'about' page on sandysbookaday.wordpress.com for an explanation of my rating system. This review and others are also published on my Goodreads.com page https://www.goodreads.com/review/show/2183060753