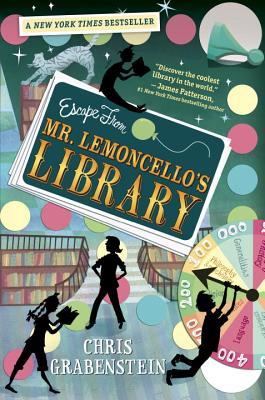 EXCERPT: So Kyle had gone down to the basement and dug up one of his all-time favorites: Mr Lemoncello's Indoor Outdoor Scavenger Hunt. It had been a huge hit for Mr Lemoncello, the master game maker. Kyle and his brothers had played it so much when they were younger, Mrs Keeley wrote to Mr Lemoncello's company for a refresher pack of clue cards. The new cards listed all kinds of different bizarre stuff you needed to find, like 'an adults droopy underpants', 'one dirty dish' and 'a rotten banana peel'.
(At the end of the game, the losers have to put everything back exactly where the items had been found. It was an official rule, printed inside the top of the box, and made winning the game that much more important!)
ABOUT THIS BOOK: Kyle Keeley is the class clown, popular with most kids, (if not the teachers), and an ardent fan of all games: board games, word games, and particularly video games. His hero, Luigi Lemoncello, the most notorious and creative gamemaker in the world, just so happens to be the genius behind the building of the new town library.
Lucky Kyle wins a coveted spot to be one of the first 12 kids in the library for an overnight of fun, food, and lots and lots of games. But when morning comes, the doors remain locked. Kyle and the other winners must solve every clue and every secret puzzle to find the hidden escape route. And the stakes are very high.
MY THOUGHTS: School holiday time here in New Zealand, and traditionally the time for my grandson and I to do our buddy read. You may remember that last year we read our way through the Harry Potter series.  Our time was curtailed somewhat these holidays as he spent the first week in the South Island skiing. But last week we read two books together, and this was the first of them, and his pick.
This was a fun read which teaches lessons about the perils of cheating, the advantages of learning to work as part of a team, and how to think outside the box (or the most obvious answer is not always the correct one).
Honestly, neither of us could see what was wrong with being locked in a library, particularly since this library has a café, and we would have been quite happy to have stayed there. But this book was not about us.
We did enjoy trying to solve the puzzles, though we (or more specifically I) weren't all that successful.
My grandson thought that this ultra modern library would be wonderful. Me? I have fond memories of the library of my childhood (now sadly demolished), a grand old wooden building with coke fuelled fires that I would curl up in front of and read for hours. And wonderful librarians, one of whom is still alive and whom I visit whenever I can.
Escape from Mr Lemoncello's Library fuelled a lot of discussion between us. My grandson now knows a lot more about my life as a child, and the books I read. He has some new titles to read, as do I. And while he has already read the other books in this series, I haven't, but am keen to do so.
😍😍😍😍
THE AUTHOR: CHRIS GRABENSTEIN is a #1 New York Times bestselling. His books include the LEMONCELLO LIBRARY series, the WONDERLAND series, and many fun and funny page-turners co-authored with James Patterson. You can visit Chris at ChrisGrabenstein.com.
DISCLOSURE: I listened to Escape from Mr Lemoncello's Library by Chris Grabenstein, narrated by Jesse Bernstein and published by Listening Library via OverDrive. All opinions expressed in this review are entirely my own personal opinions.
Please refer to my Goodreads.com profile page or the 'about' page on sandysbookaday.wordpress.com for an explanation of my rating system.
This review and others are also published on my Goodreads.com page https://www.goodreads.com/review/show/2460525335