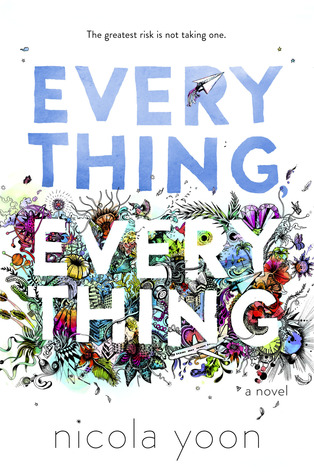 Everything, Everything
by
Nicola Yoon
(Goodreads Author)
, 
David Yoon
Reviewed by
EXCERPT: I'VE READ MANY more books than you. It doesn't matter how many you've read. I've read more. Believe me. I've had the time.
In my white room, against my white walls, on my glistening white bookshelves, book spines provide the only color. The books are all brand-new hardcovers—no germy secondhand softcovers for me. They come to me from Outside, decontaminated and vacuum-sealed in plastic wrap. I would like to see the machine that does this. I imagine each book traveling on a white conveyor belt toward rectangular white stations where robotic white arms dust, scrape, spray, and otherwise sterilize it until it's finally deemed clean enough to come to me. When a new book arrives, my first task is to remove the wrapping, a process that involves scissors and more than one broken nail. My second task is to write my name on the inside front cover.
In my white room, against my white walls, on my glistening white bookshelves, book spines provide the only color.
PROPERTY OF: Madeline Whittier
I don't know why I do this. There's no one else here except my mother, who never reads, and my nurse, Carla, who has no time to read because she spends all her time watching me breathe. I rarely have visitors, and so there's no one to lend my books to. There's no one who needs reminding that the forgotten book on his or her shelf belongs to me.
REWARD IF FOUND (Check all that apply):
This is the section that takes me the longest time, and I vary it with each book. Sometimes the rewards are fanciful:
Picnic with me (Madeline) in a pollen-filled field of poppies, lilies, and endless man-in-the-moon marigolds under a clear blue summer sky.
Drink tea with me (Madeline) in a lighthouse in the middle of the Atlantic Ocean in the middle of a hurricane.
Snorkel with me (Madeline) off Molokini to spot the Hawaiian state fish— the humuhumunukunukuapuaa.
THE BLURB: My disease is as rare as it is famous. Basically, I'm allergic to the world. I don't leave my house, have not left my house in seventeen years. The only people I ever see are my mom and my nurse, Carla.
But then one day, a moving truck arrives next door. I look out my window, and I see him. He's tall, lean and wearing all black—black T-shirt, black jeans, black sneakers, and a black knit cap that covers his hair completely. He catches me looking and stares at me. I stare right back. His name is Olly.
Maybe we can't predict the future, but we can predict some things. For example, I am certainly going to fall in love with Olly. It's almost certainly going to be a disaster.
MY THOUGHTS: I have read a surprising number of young adult books recently, some of them better than others. Everything, Everything by Nicola Yoon definitely falls into the better category. I found the premise for the plot interesting, probably because I have hermit tendencies. But if you were a teenager, and you had no option?
I was expecting a sullen, resentful teenager. I am sure I would have been. Instead what I got was a remarkably well adjusted, if a little wistful, young woman who lived for her books, her education, her mother, and her nurse, Carla. And then Olly came into her life. ..
I listened to Everything, Everything in one sitting. It is a book about making the best of what you have, but also of never giving up hope, of first love, loyalty and realising your dreams. It is heartwarming and heartbreaking. And it has this 'WHAT!?!' moment that caused my jaw to drop, and made me rewind a little to make sure I had heard correctly.
The audio version of Everything, Everything by Nicola Yoon was narrated by Bahni Turpin and Robbie Daymond. All opinions expressed in this review are entirely my own. Please refer to my Goodreads.com profile page or the 'about' page on sandysbookaday.wordpress.com for an explanation of my rating system. This review and others are also published on https://www.goodreads.com/review/show/2168091542