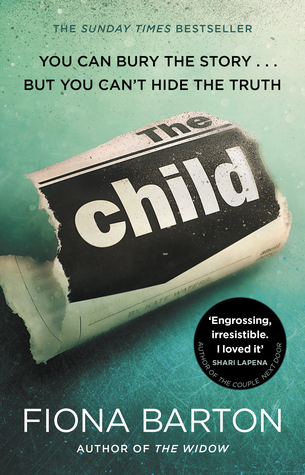 I somehow missed reading The Child by Fiona Barton when it came out. But having read The Widow  (💖💖💖💖💖) (Kate Waters #1) and, more recently, The Suspect (💖💕💖💕💖) (Kate Waters #3), I simply could not bear to think I had missed reading the middle book. Now I have a copy and hope to be starting it later this week.
Here's a small taste of The Child that I hope will tempt you into picking up a copy and reading along with me…..
When I move his briefcase off the sofa, I see he'sbrought home a copy of the Evening Standard. He must have picked it up on the Tube.
I sit and read it while he showers away the cares of the day, and it's then that I see the paragraph about the baby.
'BABY'S BODY FOUND', it says. Just a few lines about how a baby's skeleton has been discovered on a building site in Woolwich and police are investigating. I keep reading it over and over. I can't take it in properly, as if it's in a foreign language.
But I know what it says and terror is coiling around me. Squeezing the air out of my lungs. Making it hard to breathe.