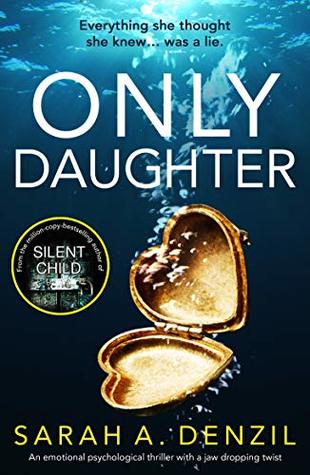 EXCERPT: If you were here with me now, I'd say sorry for everything.
I know I've let you down, disappointed you, and it hurts. This is how it ends for me, isn't it? Alone with my thoughts, with my pain, all the regrets about who I am and how I acted coming back to haunt me. I let you down more than anyone else. Maybe one day you'll be able to forgive me, but I know I'll never forgive myself. . .
If you were here now, I'd apologize for everything.
But I wouldn't just say sorry; I'd warn you, too.
Because they're coming after you next. . .
ABOUT THIS BOOK: In one moment, Kat Cavanaugh's perfect world is shattered into tiny fragments. The flash of her daughter's yellow dress, the blonde hair hanging across her precious face. Her own heart-broken sob…
Kat experiences every mother's worst nightmare when her only child's body is found lifeless in an overgrown, abandoned quarry.
Desperate to find out what happened, Kat questions those closest to her as she tries to piece together the last days of Grace's life. But as a darker side to her little girl begins to unravel, Kat wonders if she ever really knew Grace.
As Kat is drawn into a twisted game of lies, is she also in terrible danger? And will she be able to unlock her daughter's final shocking secret?
Even if the truth is unthinkable…
MY THOUGHTS: I blew hot and cold on Only Daughter as I read. I thought it started with promise, and there were moments, a few absolutely brilliant moments, during the book when I fist pumped the air, thinking yes, she's hit her stride! But, unfortunately, they didn't last.
I found it neither addictive, nor emotional. In fact, my lack of feeling was so noticeable that, several times, I wondered if I was the sociopath!
I found the characters hard to relate to, and never got fully involved in the storyline. Only one twist surprised me, and I pretty much had sussed out what was going on by a little over half way through the book. But that doesn't necessarily ruin a book for me. I have recently read a book where I knew what the outcome was, having previously read a later book in the series, and still rated it 5-stars because the journey was extremely enjoyable. And I think herein lies the problem with Only Daughter for me. The journey was, for the most part, pretty ordinary. I had the feeling that I had read it all before.
Beautiful cover art and those few brilliant moments raised this from 2.5 to 😐😐😐
THE AUTHOR: Sarah A. Denzil is a suspense writer from Derbyshire, England. She is also known as young adult author Sarah Dalton.
Sarah lives in Yorkshire with her partner, enjoying the scenic countryside and rather unpredictable weather.
She is the author of international bestselling psychological thriller SILENT CHILD, which topped the bestseller lists on Amazon in the US, UK and Australia.
DISCLOSURE: Thank you to Bookouture via Netgalley for providing a digital ARC of Only Daughter for review. All opinions expressed in this review are entirely my own personal opinions.
Please refer to my Goodreads.com profile page or the about page on sandysbookaday.wordpress.com for an explanation of my rating system. This review and others are also published on my Goodreads.com page https://www.goodreads.com/review/show/2752542707