It is late Sunday afternoon here in New Zealand and I have just gotten home after a busy weekend of fundraising for Te Reina Worsley. We had a brilliant day yesterday that continued late into the night, and then today our Euchre section hosted a tournament and the Club in general celebrated St Patrick's Day. It was an enjoyable and, although I haven't finished tallying everything up, successful weekend putting Te Reina several thousand dollars closer to the surgery she needs. If you haven't done so yet, please check out her page at givealittle.co.nz
Of course, everything has been overshadowed by the terrible shootings at the Christchurch mosques. I simply do not understand the hatred. My sympathy and condolences to all those affected by this atrocity. I never thought we would have anything like this happen in New Zealand.
I have just started reading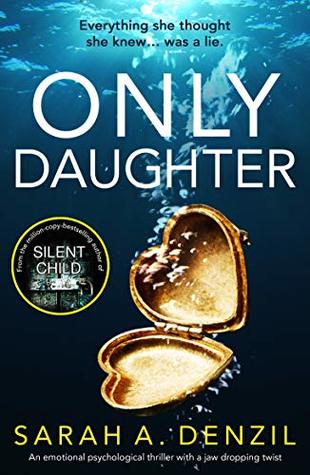 Kat experiences every mother's worst nightmare when her only child's body is found lifeless in an overgrown, abandoned quarry.
Desperate to find out what happened, Kat questions those closest to her as she tries to piece together the last days of Grace's life. But as a darker side to her little girl begins to unravel, Kat wonders if she ever really knew Grace.
As Kat is drawn into a twisted game of lies, is she also in terrible danger? And will she be able to unlock her daughter's final shocking secret?
Even if the truth is unthinkable…
and just started listening to
"The Dead Tracks" is the second in the David Raker series from Tim Weaver. A serial killer more terrifying than you could ever imagine…Seventeen-year-old Megan Carver was an unlikely runaway. A straight – a student from a happy home, she studied hard and rarely got into trouble. Six months on, she's never been found. Missing persons investigator David Raker knows what it's like to grieve. He knows the shadowy world of the lost too. So, when he's hired by Megan's parents to find out what happened, he recognizes their pain – but knows that the darkest secrets can be buried deep. And Megan's secrets could cost him his life. Because as Raker investigates her disappearance, he realizes everything is a lie. People close to her are dead. Others are too terrified to talk. And soon the conspiracy of silence leads Raker towards a forest on the edge of the city. A place with a horrifying history – which was once the hunting ground for a brutal, twisted serial killer. A place known as the Dead Tracks…Hot on the heels of "Chasing the Dead", "The Dead Tracks" by Tim Weaver revisits David Raker and his complex missing persons cases. Fans of Mo Hayder's "Gone" and Michael Marshall Smith's "The Straw Men" should look this way. Praise for Tim Weaver: "Impressive debut…Fans of Mo Hayder will be in seventh hell". ("Guardian"). "Perfect plotting, great characterisation, and the kind of payoff that a thriller of this calibre deserves". (Bookgeeks). "A taut thriller". (Barry Forshaw). Tim Weaver was born in 1977. At eighteen, he left school and started working in magazine journalism, and has since gone on to develop a successful career writing about films, TV, sport, games and technology. He is married with a young daughter, and lives near Bath. "Vanished" is Tim's third David Raker novel, which follow his highly acclaimed debut "Chasing the Dead" and its sequel, "The Dead Tracks". Tortured by his wife's early death, David Raker is one of the most charismatic, sensitive and unique missing persons investigators in current crime fiction.
This week I am planning on reading
Originally titled Sixty Seconds
A deeply emotional drama that explores a family's path to forgiveness and redemption in the aftermath of a tragedy.
The Brennans — parents, Finn and Bridget, and their sons, Jarrah and Toby — have made a sea change, from chilly Hobart, Tasmania, to subtropical Murwillumbah, New South Wales. Feeling like foreigners in this land of sun and surf, they're still adjusting to work, school, and life in a sprawling purple clapboard house, when one morning, tragedy strikes.
In the devastating aftermath, the questions fly. What really happened? And who's to blame? Determined to protect his family, Finn finds himself under the police and media spotlight. Guilty and enraged, Bridget spends nights hunting answers in the last place imaginable. Jarrah — his innocence lost — faces a sudden and frightening adulthood where nothing is certain.
And I hope to start
My baby girl, I'll never forget you – your smile, your laugh, the way your hair sparkles in the sun. I cannot comprehend this pain. I cannot breathe through it.
In the middle of the night, Claire wakes up to discover that her beloved daughter, Julia, is dead – and life, as she knows it, is over.
Searching for answers, Claire stumbles upon a pile of letters, hidden under Julia's bed in an old, battered shoebox, and feels closer to her daughter than ever before. They tell her that Julia was happy, that she was thriving at university, that she was in love.
But as the letters go on, Claire starts to feel uneasy at something hidden between the lines. Even as she grieves, she must prepare to face a shocking discovery. Because Julia was hiding a terrible secret – and when it's uncovered, it will devastate a family already torn apart by tragedy.
Two very similar covers there !
Three approvals this week from NetGalley
And one publisher's request
I wish you all a wonderful week's reading. Please, pick up a book, not a gun.
💕📚