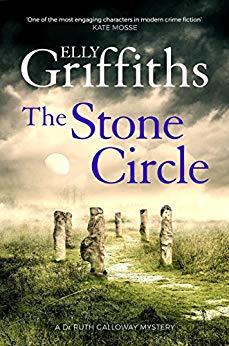 EXCERPT: 12 February 2016
DCI Nelson,
Well, here we are again. Truly our end is our beginning. That corpse you buried in your garden, has it begun to sprout? Will it bloom this year? You must have wondered whether I, too, was buried deep in the earth. Oh ye of little faith. You must have known that I would rise again.
You have grown older, Harry. There is grey in your hair and you have known sadness. Joy too, but that also can bring anguish. The dark nights of the soul. You could not save Scarlet but you could save the innocent who lies within the stone circle. Believe me, Harry, I want to help.
The year is turning. The shoots rise from the grass. Imbolc is here and we dance under the stars.
Go to the stone circle.
In peace.
ABOUT THIS BOOK: Dr Ruth Galloway returns to north Norfolk in her latest chilling adventure.
DCI Nelson has been receiving threatening letters. They are anonymous, yet somehow familiar. They read like the letters that first drew him into the case of The Crossing Places, and to Ruth. But the author of those letters is dead. Or are they?
The past is reaching out for Ruth and Nelson, and its grip is deadly.
MY THOUGHTS: I can honestly say that The Stone Circle is the best book of the Ruth Galloway series that I have read so far. And the others have been good. Very good, obviously, because otherwise I wouldn't still be reading this series.
There's something about Elly Griffiths writing that draws me in, makes me feel a part of the plot, not just a reader. I love and look forward to my annual visit with Ruth and Nelson and their families, Cathbad (it's impossible not to like Cathbad) and Judy, Shona, although we don't see so much of her this visit, and Clough. The only character I have never really warmed to is Nelson's wife, Michelle, and I really don't know why.
Griffiths introduces an interesting new character in this book, Leif Andersson, son of her old mentor Erik Andersson. I hope that we have not seen the last of him.
The storyline puts me a little in mind of Scrooge's three ghosts of Christmas. But instead of ghosts, we have skeletons. There is the skeleton of the past, a bronze age skeleton of a young girl; the skeleton of the present, well maybe not quite the present, but certainly a more contemporary skeleton, again that of a young girl; and the possibility of a skeleton of the future with the abduction of a baby girl.
Elly Griffiths has written a compelling read, one that had me frantically turning the pages into the early hours of the morning. I can't wait for the next installment in this brilliant series.
💖💖💖💖💖
THE AUTHOR: Elly Griffiths' Ruth Galloway novels take for their inspiration Elly's husband, who gave up a city job to train as an archaeologist, and her aunt who lives on the Norfolk coast and who filled her niece's head with the myths and legends of that area. Elly has two children and lives near Brighton. Though not her first novel, The Crossing Places was her first crime novel.
DISCLOSURE:Thank you to Quercus Books via Netgalley for providing a digital ARC of The Stone Circle by Elly Griffiths for review. All opinions expressed in this review are entirely my own personal opinions.
Please refer to my Goodreads.com profile page or the about page on sandysbookaday.wordpress.com for an explanation of my rating system. This review and others are also published on my Goodreads.com page https://www.goodreads.com/review/show/2690349603