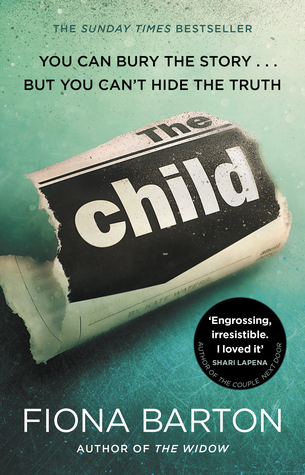 EXCERPT: People say what doesn't kill you makes you stronger. They say that when you've been through something terrible. My mum Jude used to say it. But it doesn't. It breaks your bones, leaving everything splintered and held together with grubby bandages and yellowing sticky tape. Creaking along the fault lines. Fragile and exhausting to hold together. Sometimes you wish it had killed you.
ABOUT THIS BOOK: 'An engrossing, irresistible story about the coming to light of a long-buried secret.
When a paragraph in an evening newspaper reveals a decades-old tragedy, most readers barely give it a glance. But for three strangers it's impossible to ignore.
For one woman, it's a reminder of the worst thing that ever happened to her.
For another, it reveals the dangerous possibility that her darkest secret is about to be discovered.
And for the third, a journalist, it's the first clue in a hunt to uncover the truth.
The Child's story will be told.
MY THOUGHTS: I feel like I have been hit by a train. The pain of the characters in The Child is palpable. It squeezed my chest until I could not breathe. And at the end, I cried.
This is an excellent example of the slow-burner psychological thriller. Three unrelated stories are being told over a two month period in 2012, with occasional flashbacks to the 1980's; stories that slowly begin to overlap and intertwine then culminate in a surprising ending. Yes, I was surprised, very surprised, and it's not often that happens.
After starting this book, then having to put it aside in favor of books I had to read for deadline reviews, I picked it up again and read it overnight. For once, the publicity blurb on the bookcover was right. The Child is both engrossing and irresistible.
The Child takes on several relevant issues: historical rape, mental illness, child abduction and the survival struggle of the printed newspaper amongst others. A mixed bag? Yes, but a mixed bag of gems.
💖💗💖💗💖
THE AUTHOR: My career has taken some surprising twists and turns over the years. I have been a journalist – senior writer at the Daily Mail, news editor at the Daily Telegraph, and chief reporter at The Mail on Sunday, where I won Reporter of the Year at the National Press Awards, gave up my job to volunteer in Sri Lanka and since 2008, have trained and worked with exiled and threatened journalists all over the world.
My husband and I are living the good life in south-west France, where I am writing in bed, early in the morning when the only distraction is our cockerel, Sparky, crowing.
DISCLOSURE: I obtained my copy of The Child by Fiona Barton, published by Transworld Publishers, Bantam Press, from Waitomo District Library. All opinions expressed in this review are entirely my own personal opinions.
Please refer to my Goodreads.com profile page or the about page on sandysbookaday.wordpress.com for an explanation of my rating system. This review and others are also published on my  Goodreads.com page https://www.goodreads.com/review/show/2712907548