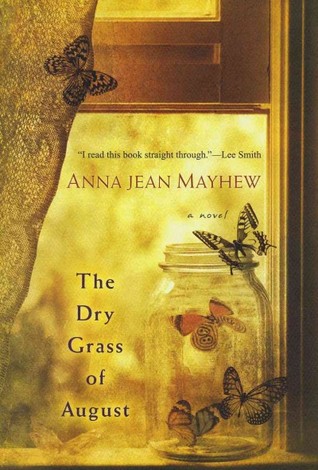 Happy Publication Day Anna Jean Mayhew and Kensington Books! 🎊🎉
EXCERPT: In August of 1954, we took our first road trip without Daddy, and Stell got to use the driver's license she'd had such a fit about. It was just a little card saying she was Estelle Annette Watts, that she was white, with hazel eyes and brown hair. But her having a license made that trip different from any others, because if she hadn't had it, we never would have been stuck in Sally's Motel Park in Claxton, Georgia, where we went to buy fruit cakes and had a wreck instead. And Mary would still be with us.
ABOUT THIS BOOK: The Dry Grass of August offers a riveting depiction of Southern life in the throes of segregation and what it will mean for a young girl on her way to adulthood and for the woman who means the world to her.
On a scorching day in August 1954, thirteen-year-old Jubie Watts leaves Charlotte, North Carolina, with her family for a Florida vacation. Crammed into the Packard along with Jubie are her three siblings, her mother, and the family's black maid, Mary Luther. For as long as Jubie can remember, Mary has been there cooking, cleaning, compensating for her father's rages and her mother's benign neglect, and loving Jubie unconditionally.
Bright and curious, Jubie takes note of the anti-integration signs they pass and of the racial tension that builds as they journey further south. But she could never have predicted the shocking turn their trip will take. Now, in the wake of tragedy, Jubie must confront her parents failings and limitations, decide where her own convictions lie, and make the tumultuous leap to independence.
Infused with the intensity of a changing time, here is a story of hope, heartbreak, and the love and courage that can transform us from child to adult, wounded to indomitable.
MY THOUGHTS: This is a quietly powerful book that is going to merit a second reading from me at some point. Its characters, particularly Jubie, will stay with me for some time. She has a good heart, and I would like to know what happens to her as an adult.
I wasn't quite born when this book starts out, and yet this time feels as familiar to me as if I had lived it. And it is a tribute to Mayhew's writing skills that I did feel like I was living this road trip along with Jubie and her family.
I can remember the reports of racial unrest over the integration of schools and buses when I was a child. I had never realized that there were curfews, and had never thought about the difficulties encountered when travelling with a colored maid. The Dry Grass of August was an eye-opener in more ways than one. There is something very 'personal' about this book which has been lacking in other similar books I have previously read.
Particularly impressive is the fact that this is Mayhew's debut novel – at the age of seventy-one. I feel that there is hope for me yet!
The one fly in the ointment for me was the unresolved question of the room at the back of Bill's warehouse. Link says to Jubie at Mary's funeral, 'Ask your father about the room behind the warehouse.' Despite it coming up again, we never actually find out about the room, what it was for, or why Link thought Jubie needed to be aware of it. A day after finishing this read, that room is still niggling at me. I want to know!
Beautiful cover!
❤❤❤❤
THE AUTHOR: Anna Jean (A.J.) Mayhew's first novel, The Dry Grass of August, won the Sir Walter Raleigh Award for Fiction, and was a finalist for the Book Award from the Southern Independent Booksellers Alliance. She has been writer-in-residence at Moulin à Nef Studio Center in Auvillar, France, and was a member of the first Board of Trustees of the North Carolina Writers' Network. A native of Charlotte, NC, A.J. has never lived outside the state, although she often travels to Europe with her Swiss-born husband. Her work reflects her vivid memories of growing up in the segregated South. A.J.—a mother and
grandmother—now lives in a small town in the North Carolina Piedmont with her husband and their French-speaking cat.
DISCLOSURE: Thank you to Kensington Books via Netgalley for providing a digital ARC of The Dry Grass of August by Anna Jean Mayhew for review. All opinions expressed in this review are entirely my own personal opinions.
Please refer to my Goodreads.com profile page or the about page on sandysbookaday.wordpress.com for an explanation of my rating system. This review and others are also published on my Goodreads.com page https://www.goodreads.com/review/show/2635333951