Happy publication day Sheila Connolly!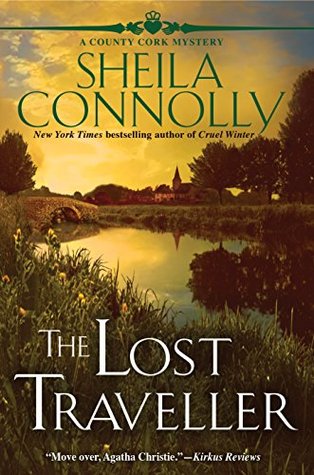 EXCERPT: " You have a picture?" Maura slid his coffee across the bar.
Sean slumped. "And there's the next problem: when the man fell, he landed on his face, on the rocks below. Or the bridge footings. Or for all we know, someone worked hard to bash his face in before dropping him in. His own mother wouldn't know him in his current state."
"Ew. " Maura grimaced. "So it was the fall that killed him?"
"Uh, no. A couple of bloody great gashes in his chest did the job."
"So it was murder?"
Sean nodded. "Unless he stabbed himself and then flung himself over the six-foot fence, I'd say so. "
ABOUT THIS BOOK: Danger comes to Cork in the seventh County Cork mystery from New York Times bestselling author Sheila Connolly, and it's up to Maura Donovan to find a way to protect all she's worked for.
Pub owner Maura Donovan is settling into a charmed life in Ireland—until a mutilated body on her property ends her lucky streak.
Boston expat Maura Donovan came to Ireland to honor her grandmother's last wish, but she never expected to stay in provincial County Cork—much less to inherit a house and a pub, Sullivan's, in the small village of Leap. After a year-long struggle to stay in the black, Sullivan's is finally thriving, and Maura has even brought back traditional Irish music to the pub. With a crop of new friends and a budding relationship with handsome Mick Nolan, Maura's life seems rosier than ever—but even in Ireland, you can't always trust your luck.
It begins with Maura's discovery of a body in the ravine behind the pub. And then, the Irish gardaí reveal that the victim's face has been battered beyond recognition. Who is the faceless victim? Who wanted him dead? And why was his body dumped in the backyard of Sullivan's Pub? Even after the dead man is finally given a name, nobody admits to knowing him. In the tight-knit world of Leap, no one is talking—and now it's up to Maura to uncover the dark secrets that lurk beneath the seemingly quiet town.
MY THOUGHTS: I really quite enjoyed the early parts of this book, getting to know the characters, and learning how Maura came to have moved from Boston to County Cork, Ireland. But then it started getting repetitive. The same information was chewed over, and rehashed, and nothing much happened other than Maura blithering on about lack of staff, and should she be doing food, which meant installing a kitchen, and what about the rooms….. over, and over, and over.
In the end, she did my head in. And what had originally felt like a 4-star read, slid down to a tenuous 2.5 stars.
Although this is the seventh book in the series, it is easily read as a stand-alone as there is plenty of background information provided. This is a quick and undemanding read, but didn't really hold my interest past the halfway point.
😕😕.5
THE AUTHOR: Sheila Connolly has taught art history, structured and marketed municipal bonds for major cities, worked as a staff member on two statewide political campaigns, and served as a fundraiser for several non-profit organizations. She also managed her own consulting company providing genealogical research services. Now a full-time writer, she thinks writing mysteries is a lot more fun than any of her previous occupations.
She is a member of Sisters in Crime-New England (president 2011), the national Sisters in Crime, and the fabulous on-line SinC chapter, the Guppies. She also belongs to Romance Writers of America and Mystery Writers of America.
Sheila is Regent of her local DAR chapter, and a member of the Society of Mayflower Descendants. She's also the grandchild of Irish immigrants (in case you're worried that she's a snob). In addition to genealogy, Sheila loves restoring old houses, visiting cemeteries, and traveling. She is married, and has one daughter and two cats.
She blogs with Poe's Deadly Daughters and Mystery Lovers' Kitchen on Fridays, and Killer Characters the 25th of each month.
DISCLOSURE: Thank you to Crooked Lane Books via Netgalley for providing a digital ARC of The Lost Traveller by Sheila Connolly for review. All opinions expressed in this review are entirely my own personal opinions.
Please refer to my Goodreads.com profile page or the about page on sandysbookaday.wordpress.com for an explanation of my rating system. This review and others are also published on my Goodreads.com page https://www.goodreads.com/review/show/2619714375