Well here we are, the first Sunday of 2019, and I am sure you will be pleased to hear that my reading is going better than my eating! I have to admit that I have very little self control with either and so I have lost almost no weight for my son's wedding in 4 weeks. . Oh well, it is what it is.
I am currently reading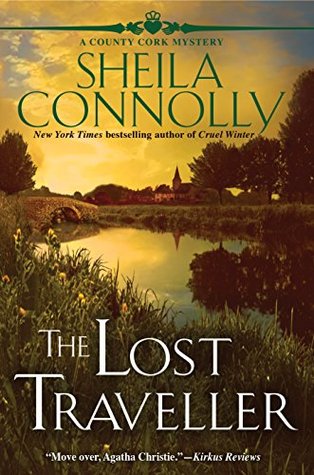 a lovely cosy murder mystery set in County Cork and due to be published next week. I am half way through, and while I am enjoying it, I wouldn't be telling Agatha Christie to move over as suggested on the cover.
Pub owner Maura Donovan is settling into a charmed life in Ireland—until a mutilated body on her property ends her lucky streak. 
Boston expat Maura Donovan came to Ireland to honor her grandmother's last wish, but she never expected to stay in provincial County Cork—much less to inherit a house and a pub, Sullivan's, in the small village of Leap. After a year-long struggle to stay in the black, Sullivan's is finally thriving, and Maura has even brought back traditional Irish music to the pub. With a crop of new friends and a budding relationship with handsome Mick Nolan, Maura's life seems rosier than ever—but even in Ireland, you can't always trust your luck.
It begins with Maura's discovery of a body in the ravine behind the pub. And then, the Irish gardaí reveal that the victim's face has been battered beyond recognition. Who is the faceless victim? Who wanted him dead? And why was his body dumped in the backyard of Sullivan's Pub? Even after the dead man is finally given a name, nobody admits to knowing him. In the tight-knit world of Leap, no one is talking—and now it's up to Maura to uncover the dark secrets that lurk beneath the seemingly quiet town.
Although this is the seventh book in the series, I am having no trouble in picking up the back story.
I am currently listening to
One of Us Is Lying is the story of what happens when five strangers walk into detention and only four walk out alive. Everyone is a suspect, and everyone has something to hide.
Pay close attention and you might solve this.
On Monday afternoon, five students at Bayview High walk into detention.
Bronwyn, the brain, is Yale-bound and never breaks a rule.
Addy, the beauty, is the picture-perfect homecoming princess.
Nate, the criminal, is already on probation for dealing.
Cooper, the athlete, is the all-star baseball pitcher.
And Simon, the outcast, is the creator of Bayview High's notorious gossip app.
Only, Simon never makes it out of that classroom. Before the end of detention, Simon's dead. And according to investigators, his death wasn't an accident. On Monday, he died. But on Tuesday, he'd planned to post juicy reveals about all four of his high-profile classmates, which makes all four of them suspects in his murder. Or are they the perfect patsies for a killer who's still on the loose?
Everyone has secrets, right? What really matters is how far you would go to protect them.
Intriguing. . . I have my suspicions. I hope I am wrong.
This week I am planning on reading
I read my first book by this author last year, and wondered how I had missed reading him before.
There are two men on their way to Brussels from the UK: Neil Bannerman, an iconoclastic journalist for Scotland's Daily Standard whose irate editor wants him out of the way, and Kale–a professional assassin.
Expecting to find only a difficult, dreary political investigation in Belgium, Bannerman has barely settled in when tragedy strikes. His host, a fellow journalist, along with a British Cabinet minister, are discovered dead in the minister's elegant Brussels townhouse. It appears that they have shot each other. But the dead journalist's young autistic daughter, Tania, was hidden in a closet during the killings, and when she draws a chilling picture of a third party–a man with no face–Bannerman suddenly finds himself a reluctant participant in a desperate murder investigation.
As the facts slowly begin to emerge under Bannerman's scrutiny, he comes to suspect that the shootings may have a deep and foul link with the rotten politics that brought him to Brussels in the first place. And as Kale threatens to strike again, Bannerman begins to feel a change within himself. His jaded professionalism is transforming into a growing concern for the lonely and frightened Tania, and a strong attraction to a courageous woman named Sally–drawing him out of himself and into the very heart of a profound, cold-blooded, and infinitely dangerous conspiracy.
Ewan Galbreith is out of prison.
Libby Owen is scared.
Fifteen years earlier she saw Ewan murder her aunt and uncle with their own shotgun, and now he's coming for her.
This book marks a change of direction in Lynda's writing, which I have always enjoyed, and I am looking forward to this read.
I haven't requested any books over the holiday period, and none of my pending requests have been approved. I know I say this every year, but I am going to make a concerted effort not to schedule more than 2 reads in any one week so that I can make some progress with reading my backlog of titles. Also, hopefully, this will leave me some room for discretionary reads, books not available on Netgalley that I want to read.
Happy reading my friends. 💕📚