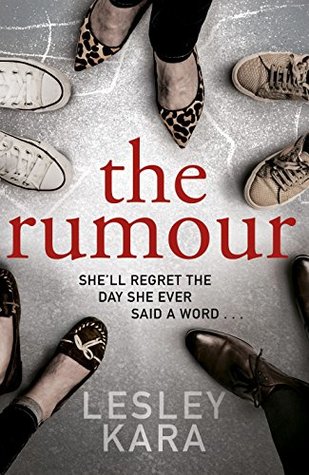 EXCERPT: It's happening again. Don't ask me how I know, I just do. I see it in the roll of the waves, the way they're bearing in at a slant. Fast. Restless. I feel it in the nip of the air on my skin, smell it in the rotting leaves and damp earth, hear it in the silence of the watching crows. You're coming for me again and there's nothing I can do to stop you.
This is how it happens. One night I go to bed and everything's fine. Everything's under control. The story has ceased to be a story. It's real. Solid. Unbreakable. Then I wake up and it's changed. Cracks have appeared overnight and I realize that I've been fooling myself all this time, that I've only ever been the most fragile of constructions.
I 'm the hunted. I'll always be the hunted.
ABOUT THIS BOOK: When single mum Joanna hears a rumour at the school gates, she never intends to pass it on. But one casual comment leads to another and now there's no going back . . .
Rumour has it that a notorious child killer is living under a new identity, in their sleepy little town of Flinstead-on-Sea.
Sally McGowan was just ten years old when she stabbed little Robbie Harris to death forty-eight years ago – no photos of her exist since her release as a young woman.
So who is the supposedly reformed killer who now lives among them? How dangerous can one rumour become? And how far will Joanna go to protect her loved ones from harm, when she realizes what it is she's unleashed?
MY THOUGHTS: We have all been guilty of gossip, of spreading unsubstantiated rumours, with little thought of the lives we might be disrupting. 'One casual remark. One whispered confidence. That's all it takes to set the wheels in motion and change the course of a life.' We may not intend to hurt anyone, we may just be desperate to fit in, as Joanna is. After all, they are only words, and if the person is guilty, then aren't they getting their just desserts?
I have often been loud and vocal in my opposition to name suppression and the creation of new identities for criminals being released into an unsuspecting community. The Rumour gave me pause to reconsider my views but, ultimately, I have stood by them. I do love a book that makes me stop and think while still being a good entertaining read.
This is an incredibly well written debut novel that sucked me in and kept me captivated until it spat me out at the last page. I suspected everyone of being the child killer, everyone that is except the person who it actually was. . . And even then, it wasn't over. Lesley Kara wasn't finished with me. She had one final surprise that left me with my jaw dropped and wanting more.
Definitely an author I will be following closely.
💖💕💖💕💖
THE AUTHOR: Lesley Kara is the author of THE RUMOUR, published in December 2018.
DISCLOSURE: Thank you to Random House UK, Transworld Publishers, Bantam Press via Netgalley for providing a digital ARC of The Rumour for review. All opinions expressed in this review are entirely my own personal opinions.
Please refer to my Goodreads.com profile page or the about page on sandysbookaday.wordpress.com for an explanation of my rating system. This review and others are also published on my Goodreads.com page https://www.goodreads.com/review/show/2597740754