Looking for something to read over the weekend ?
Nothing on your book radar that is screaming 'read me'?
Take a look at my Friday Favorite. It may be new. It may be old. It may be written by a famous author, or by someone you have never heard of. But wherever in the spectrum it falls, it will be a book that is special to me, one that has captured both my imagination and my heart.
You may think Christmas is an odd time to talk about suicide, but like murder, the suicide rate rises alarmingly at this time of year. So please let's all take a moment out of our busy lives to remember those who have taken their own lives, and another to reach out to someone who is alone. 💕 Bless you. 💕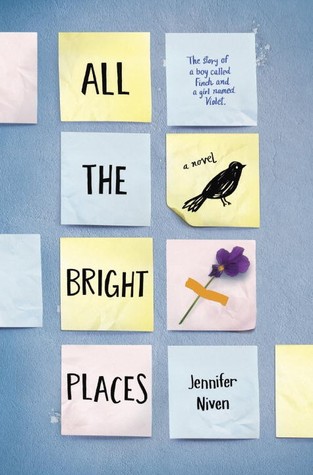 EXCERPT: 
Is today a good day to die?
This is something I ask myself in the morning when I wake up. In third period when I am trying to keep my eyes open while Mr Schroeder drones on and on. At the supper table as I'm passing the green beans. At night when I'm laying awake because my brain won't shut off due to all there is to think about.
Is today the day?
And if not today – when?
ABOUT THIS BOOK: Theodore Finch is fascinated by death, and he constantly thinks of ways he might kill himself. But each time, something good, no matter how small, stops him.
Violet Markey lives for the future, counting the days until graduation, when she can escape her Indiana town and her aching grief in the wake of her sister's recent death.
When Finch and Violet meet on the ledge of the bell tower at school, it's unclear who saves whom. And when they pair up on a project to discover the "natural wonders" of their state, both Finch and Violet make more important discoveries: It's only with Violet that Finch can be himself—a weird, funny, live-out-loud guy who's not such a freak after all. And it's only with Finch that Violet can forget to count away the days and start living them. But as Violet's world grows, Finch's begins to shrink.
MY THOUGHTS: ' It is not what you take from this life, but what you leave behind.
There is not a person out there whose life is not touched by suicide at some point, most of us more than once.
This is a wonderfully touching tale of a boy who saves a girl, but is unable to save himself; a book that should be read by everyone.
I grew to love Violet, whose life has been shattered by the death of her elder sister Eleanor in a car accident; a death Violet feels responsible for, both because she survived the accident and because she had told her sister to take that particular road.
And Theodore, a selfless romantic in search of 'the perfect day'; who each day plans to kill himself but each day is stopped by one small beautiful thing he discovers. Until one day he isn't.
This book is beautifully written. It is sensitively written, but at the same time it doesn't hold anything back. Survivor guilt, anger, bullying, the duplicity of teenagers, the ignorance of parents are all interwoven into this emotional story that will bring a tear to your eye.
💖💖💖💖💖
THE AUTHOR: By the time I was ten, I had already written numerous songs, a poem for Parker Stevenson ("If there were a Miss America for men, You would surely win"), two autobiographies (All About Me and My Life in Indiana: I Will Never Be Happy Again), a Christmas story, several picture books (which I illustrated myself) featuring the Doodle Bugs from Outer Space, a play about Laura Ingalls Wilder's sister entitled Blindness Strikes Mary, a series of prison mysteries, a collection of short stories featuring me as the main character (an internationally famous rock star detective), and a partially finished novel about Vietnam. I was also an excellent speller from a very early age.
In 2000, I started writing full-time, and I haven't stopped… I've written nine books (#9 will be out Oct 4, 2016), and when I'm not working on the tenth, I'm writing the screenplay for All the Bright Places, contributing to my web magazine, Germ (www.germmagazine.com), thinking up new books, and dabbling in TV. I am always writing.
DISCLOSURE: I listened to the audiobook of All the Bright Places, written by Jennifer Niven , narrated by Kirby Heyborne and Ariadne Meyers, published by Listening Library, via OverDrive. All opinions expressed in this review are entirely my own personal opinions.
Please refer to my Goodreads.com profile page or the about page on sandysbookaday.wordpress.com for an explanation of my rating system. This review and others are also published on my Goodreads.com page https://www.goodreads.com/review/show/1075319539