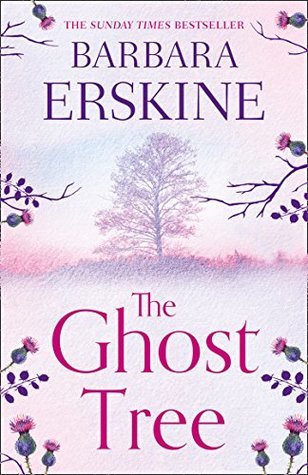 EXCERPT: Ruth swung the car out of the lane and drove down into Cramond village, turning into the car park. Her panic had returned and was growing stronger. She couldn't get rid of the feeling that someone or something was with her inside the car, clinging to her jacket, tangled in her hair.
Flinging open the door, she scrambled out and ran through the hedge towards the beach to stand staring out across the stormy Forth. The wind had risen. It tore at her hair, and her jacket, thrashing the water into waves that crashed onto the shore and over the causeway that led to Cramond Island. She was tempted to try to walk across to the island before it was completely covered. Surely Farquhar, if it was Farquhar, couldn't follow her there? The force of the sea would purify her, purge him out of her system. This was Thomas's battle, not hers. She groped at her throat for the little cross and held onto it tightly, part of her even now unable to believe she was doing such a thing.
ABOUT THIS BOOK: Before you follow the path into your family's history, beware of the secrets you may find…
Ruth has returned to Edinburgh after many years of exile, left rootless by the end of her marriage, career and now the death of her father, from whom she had long been estranged. She is faced with the daunting task of clearing his house, believing he had removed all traces of her mother. Yet hidden away in a barely used top-floor room, she finds he had secretly kept a cupboard full of her possessions. Sifting through the ancient papers, Ruth discovers the diary and letters written by her ancestor from the eighteenth century, Thomas Erskine.
As the youngest son of a noble family now living in genteel poverty, Thomas always knew he would have to make his own way in the world. Unable to follow his brothers to university, instead he joins first the navy and then the army, rising through the ranks, travelling the world. When he is finally able to study law, his extraordinary experiences and abilities propel him to the very top and he becomes Lord Chancellor. Yet he has made a powerful enemy on his voyages, who will hound him and his family to the death – and beyond.
Ruth becomes ever more aware of Thomas as she is gripped by his story, and slowly senses that not only is his presence with her, but so is his enemy's. Ruth will have to draw upon new friends and old in what becomes a battle for her very survival – and discover an inner power beyond anything she has imagined.
MY THOUGHTS: Although this story is fiction, it is written around the life of the author's 5xgreat grandfather, Thomas Erskine. Erskine has long dreamed of writing a novel based on her famous ancestor, and the Ghost Tree is the result.
It is divided between two timelines, the current time with Ruth Dunbar, and the 1700's with Thomas Erskine.
I really enjoyed the development of Ruth's character, her slow awakening to the realization that there are things we can't explain, that sometimes we can feel the echoes of those who have passed on.
An extremely well written tale that spans the centuries, effortlessly melding fact with fiction.
😍😍😍😍
THE AUTHOR: An historian by training, Barbara Erskine is the author of six bestselling novels that demonstrate her interest in both history and the supernatural, plus two collections of short stories. Her books have appeared in at least twenty different languages. She lives with her family in an ancient manor house near Colchester, and in a cottage near Hay-on-Wye.
DISCLOSURE: I borrowed my copy of The Ghost Tree by Barbara Erskine, published by HarperCollins, from Waitomo District Library. All opinions expressed in this review are entirely my own personal opinions.
Please refer to my Goodreads.com profile page or the about page on sandysbookaday.wordpress.com for an explanation of my rating system. This review and others are also published on my Goodreads.com page https://www.goodreads.com/review/show/2597727778