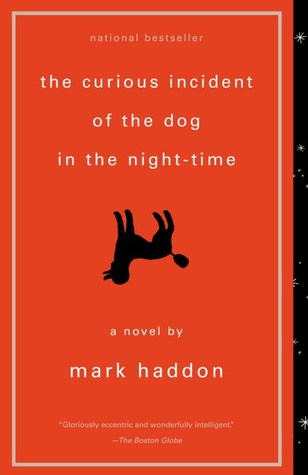 EXCERPT: …as I was crossing the street I had a stroke of inspiration about who might have killed Wellington. I was imagining a Chain of Reason inside my head which was like this
1. Why would you kill a dog?
a) because you hated the dog.
b) because you were mad.
c) because you wanted to make Mrs Shears upset.
2. I didn't know anyone who hated Wellington, so if it was a) it was probably a stranger.
3. I didn't know any mad people, so if it was b), it was probably also a stranger.
4. Most murders are committed by someone known to the victim. In fact, you are most likely to be murdered by a member of your own family on Christmas Day. This is a fact. Wellington was therefore most likely to have been killed by someone known to him.
5. If it was c), I only knew one person who didn't like Mrs Shears, and that was Mr Shears who knew Wellington very well indeed.
ABOUT THIS BOOK: Christopher John Francis Boone knows all the countries of the world and their capitals and every prime number up to 7,057. He relates well to animals but has no understanding of human emotions. He cannot stand to be touched. And he detests the color yellow.
Although gifted with a superbly logical brain, for fifteen-year-old Christopher everyday interactions and admonishments have little meaning. He lives on patterns, rules, and a diagram kept in his pocket. Then one day, a neighbor's dog, Wellington, is killed and his carefully constructive universe is threatened. Christopher sets out to solve the murder in the style of his favourite (logical) detective, Sherlock Holmes. What follows makes for a novel that is funny, poignant and fascinating in its portrayal of a person whose curse and blessing are a mind that perceives the world entirely literally.
MY THOUGHTS: I have been wanting to read this book for some years, ever since it was a Goodreads group read one month, and I couldn't lay my hands on a copy. Last year I found a copy in a bookshop and brought it for my grandson as part of his Christmas parcel. He read it for an English assignment this year, then his mother read it and, finally, I then got to read it.
I found it fascinating to see into the mind of someone with Aspergers Syndrome. I have read other books with characters similarly affected, but for some reason it is Christopher that will remain with me. I have found myself looking at numbers differently, and I now have a fascination with prime numbers. This from a person who flunked high school mathematics quite spectacularly! I still, however, have to admit to not understanding the maths problems Conways Soldiers or the Monty Hall Problem. And I have no idea, still, what the relationship is between 7 and 865. So while this book has left me in the dark mathematically speaking, I enjoyed it. And I learned a lot.
I know it was written some time ago, but I really would like to know how Christopher gets on at University.
😍😍😍😍.5
THE AUTHOR: Mark Haddon is a British novelist and poet, best known for his 2003 novel The Curious Incident of the Dog in the Night-time. He was educated at Uppingham School and Merton College, Oxford, where he studied English.
In 2003, Haddon won the Whitbread Book of the Year Award and in 2004, the Commonwealth Writers' Prize Overall Best First Book for his novel The Curious Incident of the Dog in the Night-time, a book which is written from the perspective of a boy with Aspergers syndrome. Haddon's knowledge of Aspergers syndrome, a type of autism, comes from his work with autistic people as a young man. In an interview at Powells.com, Haddon claimed that this was the first book that he wrote intentionally for an adult audience; he was surprised when his publisher suggested marketing it to both adult and child audiences. His second adult-novel, A Spot of Bother, was published in September 2006.
Mark Haddon is also known for his series of Agent Z books, one of which, Agent Z and the Penguin from Mars, was made into a 1996 Children's BBC sitcom. He also wrote the screenplay for the BBC television adaptation of Raymond Briggs's story Fungus the Bogeyman, screened on BBC1 in 2004. He also wrote the 2007 BBC television drama Coming Down the Mountain.
Haddon is a vegetarian, and enjoys vegetarian cookery. He describes himself as a 'hard-line atheist'. In an interview with The Observer, Haddon said "I am atheist in a very religious mould". His atheism might be inferred from The Curious Incident of the Dog in the Night-time in which the main character declares that those who believe in God are stupid.
Mark Haddon lives in Oxford with his wife Dr. Sos Eltis, a Fellow of Brasenose College, Oxford, and their two young sons.
DISCLOSURE: I was loaned a copy of The Curious Incident of the Dog in the Night-Time, written by Mark Haddon, published by Vintage Classics, by my grandson Kayden Webby, Goodreads.com member and blogger at https://kaydensbookblog.wordpress.com/
Here are links to his reviews https://www.goodreads.com/review/show… and https://kaydensbookblog.wordpress.com…
All opinions expressed in this review are entirely my own personal opinions. Please refer to my Goodreads.com profile page or the about page on sandysbookaday.wordpress.com for an explanation of my rating system. This review and others are also published on my Goodreads.com page https://www.goodreads.com/review/show/1057658241