Looking for something to read over the weekend ?
Nothing on your book radar that is screaming 'read me'?
Take a look at my Friday Favorite. It may be new. It may be old. It may be written by a famous author, or by someone you have never heard of. But wherever in the spectrum it falls, it will be a book that is special to me, one that has captured both my imagination and my heart.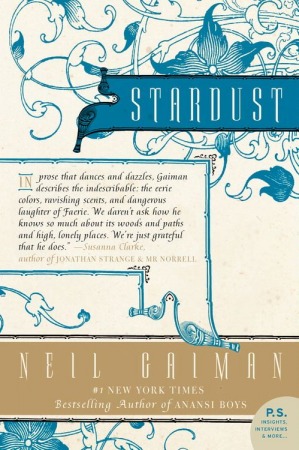 EXCERPT: There was once a young man who wished to gain his heart's desire.
And while that is, as beginnings go, not entirely novel (for every tale about every young man that ever was or will be could start in a similar manner) there was much about this young man and what happened to him that was unusual, although even he never knew the whole of it.
ABOUT THIS BOOK: Life moves at a leisurely pace in the tiny town of Wall—named after the imposing stone barrier which separates the town from a grassy meadow. Here, young Tristran Thorn has lost his heart to the beautiful Victoria Forester and for the coveted prize of her hand, Tristran vows to retrieve a fallen star and deliver it to his beloved. It is an oath that sends him over the ancient wall and into a world that is dangerous and strange beyond imagining…This is a remarkable quest into the dark and miraculous—in pursuit of love and the utterly impossible.
MY THOUGHTS: How do I even start to describe this wonderful fairy-tale? Well, it's written by Neil Gaiman, so it is magical and lyrical and not of this world. There is good and evil, love and hate, greed and generosity, and magic, both black and white. There are ghosts, but no goblins (at least not that I remember), and fairies and evil old crones. This is every fairy-tale you ever loved rolled into one magical story that transports, enthralls, captivates and enchants. But unlike most fairy-tales, the ending is not what one would expect. Classic Gaiman. I love it.
💖💖💖💖💖
THE AUTHOR: Neil Richard MacKinnon Gaiman is an English author of short fiction, novels, comic books, graphic novels, audio theatre, and films. His works include the comic book series The Sandman and novels Stardust, American Gods, Coraline, and The Graveyard Book.
'I make things up and write them down. Which takes us from comics (like SANDMAN) to novels (like ANANSI BOYS and AMERICAN GODS) to short stories (some are collected in SMOKE AND MIRRORS) and to occasionally movies (like Dave McKean's MIRRORMASK or the NEVERWHERE TV series, or my own short film A SHORT FILM ABOUT JOHN BOLTON).
In my spare time I read and sleep and eat and try to keep the blog at www.neilgaiman.com more or less up to date.'
DISCLOSURE: I listened to the audiobook of Stardust written and narrated by Neil Gaiman, via OverDrive. All opinions expressed in this review are entirely my own personal opinions.
Please refer to my Goodreads.com profile page or the about page on sandysbookaday.wordpress.com for an explanation of my rating system. This review and others are also published on my Goodreads.com page https://www.goodreads.com/review/show/1197130084