Hi honey, I'm home!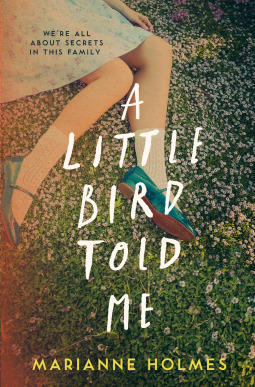 EXCERPT: What Kit knows and what I know is not the same. I have become my own secret curator of the facts. It's all in the suitcase I keep under my bed along with all the other monsters.
Matthew and Kit think they can protect me even now by keeping the past hidden. But they're wrong. I already know more than they think.
ABOUT THIS BOOK: Besides, if you were one half evil, wouldn't you want to know about the other half?
In the scorching summer of 1976, Robyn spends her days swimming at the Lido and tagging after her brother. It's the perfect holiday – except for the crying women her mum keeps bringing home.
As the heatwave boils on, tensions in the town begin to simmer. Everyone is gossiping about her mum, a strange man is following her around, and worst of all, no one will tell Robyn the truth. But this town isn't good at keeping secrets…
Twelve years later, Robyn returns home, to a house that has stood empty for years and a town that hasn't moved on, forced to confront the mystery that haunted her that summer.
And atone for the part she played in it.
MY THOUGHTS: This is one of those reads which is not going to fit neatly into any one category. The story is told over two timelines, 1976 and 1988. Historical fiction? Not to me, I lived those years, but I suppose to some they may qualify A Little Bird Told Me as historical. There is family drama, mystery and crime. But just what happened and to whom is not made clear until the final chapters of this intriguing book.
A Little Bird Told Me is beautifully written. The characters are 'real'. I could feel Robyn's fear and her anger, her confusion and determination. The author writes in a determinedly vague fashion, so that at times the reader is also confused. But remember, you are seeing parts of the book through the eyes of the child Robyn was at the time. And she doesn't understand a lot of what she sees and hears.
This is a slow burner of a book. It is a book that is, in places, eloquent and lyrical, in others, brutal and raw. It is a book that I enjoyed immensely, and I will be watching for more from this author.
And please don't skip the publisher's foreword. It is a delightful story about how they came by the book and published it. I'm glad they did. 😍😍😍😍
THE AUTHOR: Marianne Holmes was born in Cyprus to RAF parents but is now firmly based in London. After a sensible career in marketing, Marianne is now focusing on her love of language and writing.
A Little Bird Told Me is her first novel.
DISCLOSURE: Thank you to Agora Books via Netgalley for providing a digital ARC of A Little Bird Told Me by Marianne Holmes for review. All opinions expressed in this review are entirely my own personal opinions.
Please refer to my Goodreads.com profile page or the about page on sandysbookaday.wordpress.com for an explanation of my rating system. This review and others are also published on my Goodreads.com page https://www.goodreads.com/review/show/2465650849