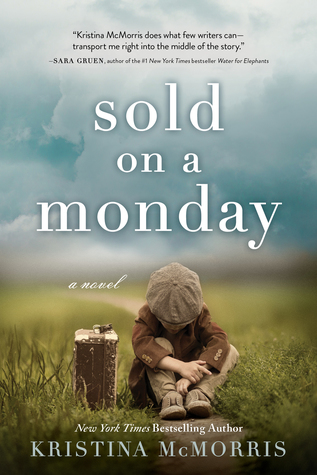 EXCERPT: Another drop of sweat slid from Ellis's fedora, down his neck, and into his starched collar. Even without his suit jacket, his whole shirt clung from the damn humidity. He moved closer to the house and raised his camera. Natural scenic shots were his usual hobby, but he adjusted the lens to bring the kids into focus. With them came a sign. A raw, wooden slat with jagged edges, it bowed slightly against the porch, as if reclining under the weight of the afternoon heat. The offer it bore, scrawled in charcoal, didn't fully register until Ellis snapped the photo.
2 children for sale
ABOUT THIS BOOK: From New York Times bestselling author Kristina McMorris comes another unforgettable novel inspired by a stunning piece of history.
2 CHILDREN FOR SALE
The sign is a last resort. It sits on a farmhouse porch in 1931, but could be found anywhere in an era of breadlines, bank runs, and broken dreams. It could have been written by any mother facing impossible choices.
For struggling reporter Ellis Reed, the gut-wrenching scene evokes memories of his family's dark past. He snaps a photograph of the children, not meant for publication. But when it leads to his big break, the consequences are more devastating than he ever imagined.
At the paper, Lillian Palmer is haunted by her role in all that happened. She is far too familiar with the heartbreak of children deemed unwanted. As the bonds of motherhood are tested, she and Ellis must decide how much they are willing to risk to mend a fractured family.
Inspired by an actual newspaper photograph that stunned the nation, Sold on a Monday is a powerful novel of love, redemption, and the unexpected paths that bring us home.
MY THOUGHTS: This is a quietly powerful novel. It is not written in a dramatic fashion, yet it tore my emotions to pieces. It gave me everything I expected, and more, yet it was nothing like I expected.
'Photography is the art of observation. It has little to do with things you see and everything to do with the way you see them'-Elliott Erwitt
None of us know what is in the hearts and minds of others. We are quick to judge by appearances, seldom taking the time to dig beneath the surface to determine the truth. And we do things ourselves, sometimes with the best of intentions, sometimes to further our own interests, mostly without thinking through the consequences. This is just what Ellis and Lily do. They individually set in motion a chain of events that neither one of them could have imagined and, united in the aftermath, what they find is not what they expected.
After the initial photograph of the children and it's accompanying furor, the book focuses largely on Ellis's career. I kept thinking, 'The children. . . what is happening to the children?' I was beginning to think that the book wasn't about them at all, that it was just an attention grabbing stunt. But I was wrong. The author was making a point, and a very good one, about how easy it is to lose sight of what is important, to be blinded by other things, superficial things that, easily gained, are also easy to lose.
This book is largely about values, about being true to ourselves and our beliefs, about truth and compassion, choices and consequences. But don't go thinking it is at all preachy or moralistic, because it's not. It is a beautifully written, compelling and captivating slice of history that will tug at your heartstrings. But it did leave me with one burning question. . . what happened to the two little boys in the first photo that Ellis took? That haunts me still.
💖💖💖💖💖
I feel sure that this book is destined to become a classic.
THE AUTHOR: KRISTINA MCMORRIS is a New York Times and USA Today bestselling author. Her novels have garnered more than two dozen literary awards and nominations, including the IMPAC Dublin Literary Award, RWA's RITA® Award, and a Goodreads Choice Award for Best Historical Fiction. Inspired by true personal and historical accounts, her works of fiction have been published by Penguin Random House, HarperCollins, and Kensington Books. Her forthcoming novel, Sold on a Monday (Sourcebooks Landmark, 8-28-18), follows her widely praised The Edge of Lost, The Pieces We Keep, Bridge of Scarlet Leaves, and Letters from Home. Additionally, her novellas are featured in the anthologies A Winter Wonderland and Grand Central. Prior to her writing career, Kristina hosted weekly TV shows since age nine, including an Emmy® Award-winning program, and has been named one of Portland's "40 Under 40" by The Business Journal. She lives with her husband and two sons in the Pacific Northwest, where she is working on her next novel.
DISCLOSURE: Thank you to Sourcebooks Landmark for providing a digital ARC of Sold On A Monday by Kristina McMorris for review. All opinions expressed in this review are entirely my own personal opinions.
Please refer to my Goodreads.com profile page or the about page on sandysbookaday.wordpress.com for an explanation of my rating system.
This review and others are also published on my Goodreads.com page https://www.goodreads.com/review/show/2517252303