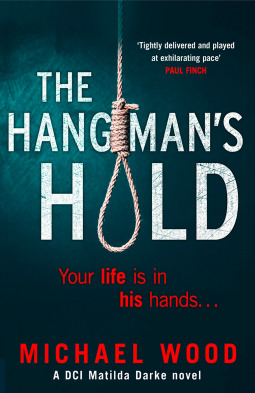 EXCERPT: 'Chris?' she called out to the dark, silent house. 'Chris, are you home?'
She kicked off her expensive but painful shoes and sighed with relief. She headed for the kitchen when a dull thud from the living room caused her to stop in her tracks. There was someone in her house. If Chris was home, he would have made himself known by now.
She turned and studied the door. Her eyes were locked on the handle, as if waiting for it to be pushed down from the other side. She grabbed it, and opened the door carefully.
Adele opened it wide enough to put her arm through and flick on the living room light. The yellow glow made her squint. She listened intently but couldn't hear anything from the other side of the door. She pushed it fully open and froze in horror.
'Who the bloody hell are you?' she asked.
ABOUT THIS BOOK: Your life is in his hands.
In the gripping new serial killer thriller from Michael Wood, Matilda Darke faces a vicious killer pursuing his own brand of lethal justice. Perfect for fans of Angela Marsons and Helen Fields.
There's a killer in your house.
The Hangman waits in the darkness.
He knows your darkest secrets.
He'll make you pay for all the crimes you have tried desperately to forget.
And he is closer than you think.
DCI Matilda Darke is running out of time. Fear is spreading throughout the city. As the body count rises, Matilda is targeted and her most trusted colleagues fall under suspicion. But can she keep those closest to her from harm? Or is it already too late?
MY THOUGHTS: I have picked up this series on book #4, which has in no way diminished my enjoyment. The Hangman's Hold can easily be read as a stand-alone, as plenty of background is supplied where needed.
How refreshing to have a lead female police officer who is not an alcoholic, into kinky sex practices, or generally screwed up. Don't get me wrong, she has issues. Her husband, James, has died and she is bereft. She also has an unsolved case that haunts her. She battles with both these things. But she has a good friend, and good relationships with her older team members. She is strong in some areas, yet vulnerable in others. An interesting character whose loyalties are tested in this book.
The plot moves at a good pace. There are plenty of twists, turns and red herrings. My suspicions veered from one character to another. There are plenty of surprises, and a few jaw-dropping OMG! moments. This is a series I am going to read more of.
😍😍😍😍.5
THE AUTHOR: Before he became an author, Michael Wood used to serve as a journalist and a proofreader. Wood resides in Sheffield, Yorkshire. For Unknown Reasons was Michael Wood's debut novel, which was published in the year 2015. HarperCollins published the second installment, Outside Looking In in the 2016.
DISCLOSURE: Thank you to Harper Impulse and Killer Reads via Netgalley for providing a digital ARC of The Hangman's Hold by Michael Wood for review. All opinions expressed in this review are entirely my own personal opinions.
Please refer to my Goodreads.com profile page or the about page on sandysbookaday.wordpress.com for an explanation of my rating system.
This review and others are also published on my Goodreads.com page https://www.goodreads.com/review/show/2465651584