I am running late with this post, for which I apologize, after a busy weekend with work and visitors, during which I got almost zero reading in. The sky is just beginning to lighten on a cool and overcast Monday morning, and I don't feel rested and refreshed and ready for the new week at all.
I am currently reading, and isn't that a beautiful cover, …
This week I am planning on reading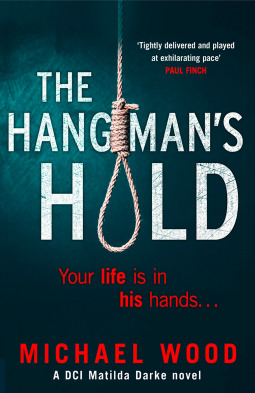 Your life is in his hands.
In the gripping new serial killer thriller from Michael Wood, Matilda Darke faces a vicious killer pursuing his own brand of lethal justice. Perfect for fans of Angela Marsons and Helen Fields.
There's a killer in your house.
The Hangman waits in the darkness of your living room. As soon as you get home, he will kill you – hang you by the neck – and make you pay for all the crimes you have tried desperately to forget.
He knows your darkest secrets.
The police are running out of time. DCI Matilda Darke is facing her worst nightmare: a serial killer pursuing his own brand of lethal justice, whose campaign of violence is spreading fear throughout the city.
And he is closer than you think.
As the body count rises, Matilda is personally targeted and even her most trusted colleagues fall under suspicion. But can she keep those closest to her from harm? Or is it already too late?
One evening as the sun is setting, Amelia Madison's car slides into the sea off Mason's Pier. Her body is never found.
Two years later, Elena Langdon meets Nicholas Madison. She is grieving the loss of her mother, he is grieving for his wife. Together they can help each other.
Now Elena is living with Nicholas. But Elena doesn't really know him. She doesn't know what he is capable of.
And she doesn't know what really happened to Amelia.
Until the day she discovers the torn page of a letter and the words she reads chill her to the bone.
Elena must find the person who wrote these letters if she is to save herself.
This week I received four ARCs from NetGalley
I am loving some of these eye-catching covers!
I am also deliberately keeping my reading load light this week as I have another heavy week at work. But I am counting down. Only this week and next week to go and then I am off to stay with my grandchildren for ten days. I am looking forward to spending this chunk of time with them, though I shall probably need a holiday when I get back. Then a couple of weeks after that, we are moving house. A busy time ahead 😎
Happy reading my friends.