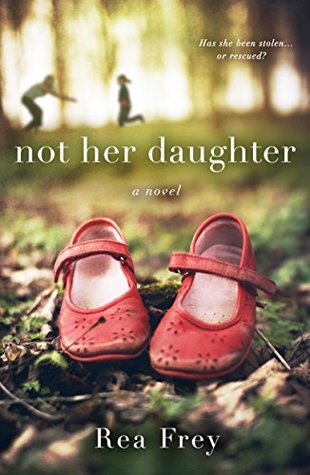 EXCERPT: "Where's my mommy?" She whispers, so that I have to lean in to hear.
"She's. . ." I hear the question and consider my answers. Her mother is at home. Her mother is searching. Her mother had her chance.
ABOUT THIS BOOK: Gripping, emotional, and wire-taut, Not Her Daughter raises the question of what it means to be a mother—and how far someone will go to keep a child safe.
Emma Townsend. Five years old. Gray eyes, brown hair. Missing since June.
Emma is lonely. Living with her cruel mother and clueless father, Emma retreats into her own world of quiet and solitude.
Sarah Walker. Successful entrepreneur. Broken-hearted. Kidnapper.
Sarah has never seen a girl so precious as the gray-eyed child in a crowded airport terminal. When a second-chance encounter with Emma presents itself, Sarah takes her—far away from home. But if it's to rescue a little girl from her damaging mother, is kidnapping wrong?
Amy Townsend. Unhappy wife. Unfit mother. Unsure whether she wants her daughter back.
Amy's life is a string of disappointments, but her biggest issue is her inability to connect with her daughter. And now Emma is gone without a trace.
As Sarah and Emma avoid the nationwide hunt, they form an unshakeable bond. But what about Emma's real mother, back at home?
MY THOUGHTS: Once I had started Not Her Daughter by Rea Frey, I didn't want to do anything other than read this book. I did not want to go to work. I didn't want to talk to anyone. I just wanted to read. Usually I take my book to work and read at lunch time. But I didn't dare do that because I knew that when it came time to start work again, I would have allowed myself 'just one more page', and then another, and another . . . you know how it goes! I would have still been reading when it was time to go home, and would have accomplished nothing for the day. It was a very long day, and I felt naked without my book.
Rea Frey knows how to write. She had me captivated from beginning to end. There was one point, just prior to the end of the book ,where I just froze. Stopped reading. Stopped breathing. And just let the tears flow.
The story is told from Sarah's and Amy's points of view and alternates between before, during, and after Emma goes missing. And there the similarity to any other book I have ever read ends. This is a fresh and novel approach to the 'missing child' story. It is beautifully written and raises a lot of good questions about the ability and suitability of some people to be a parent.
Not Her Daughter is riveting and compelling. A book that I wanted to get to the end of to find out what happened, a story I wanted never to end.
I had questions at the end, but I decided that, in the interest of a great story, they just weren't that important. Thanks for the great read Rea Frey, and I am pleased to see that you are busy at work on your next book, for which I will be first in line.
THE AUTHOR: Rea Frey is the author of four nonfiction books. Her debut novel, NOT HER DAUGHTER, will be released by St. Martin's Press August 21, 2018.
When she's not exercising, mothering, adulting, wifing, eating, or writing about herself in the third person, you can find her hard at work on her next book and ghostwriting for other people.
Read more at reafrey.com.
DISCLOSURE: Thank you to St Martin's Press, St Martin's Griffin via Netgalley for providing a digital ARC of Not Her Daughter by Rea Frey for review. All opinions expressed in this review are entirely my own personal opinions.
Please refer to my Goodreads.com profile page or the about page on sandysbookaday.wordpress.com for an explanation of my rating system.
This review and others are also published on my Goodreads.com page https://www.goodreads.com/review/show/2433663821