After almost three days of Gremlins blanking out my screen every time I went to my WordPress site, I am glad to report that they have finally moved on to other pastures. I sincerely hope that it's not you that they have moved on to. It was an extremely frustrating experience!
So with my return to normality(?), I decided it was time for a fresh title for my Sunday summary. And since I am currently watching what I eat, the title Watching  What I Read suggested itself to me. So no, it's not about watching the movies or box sets of what I am reading.
I have just started
A sadistic killer. An infamous victim. A crime that gets darker and darker…
The body of a young woman is found in a London hotel room, the victim of a suspected poisoning. Called in to investigate, DI Simon Fenchurch soon discovers the case is far more sinister than he could have imagined.
He should have recognised the woman at once—a teacher at a local school, her scandalous affair with a pupil has been splashed across the tabloids. As Fenchurch interrogates those closest to her, a web of suspicious connections begins to emerge.
Meanwhile Fenchurch's own life is still in turmoil: his family fragmented, his baby son in intensive care, and his mentor replaced by an unsympathetic new boss. The streets of London are in chaos too, with a spate of acid attacks on seemingly random victims.
Struggling to hold on to hope on both fronts, Fenchurch faces the toughest few days of his career. Can he keep his family safe and catch whoever is behind the murder before more lives are lost?
This is a series I have enjoyed from the start.
This coming week, I am planning on reading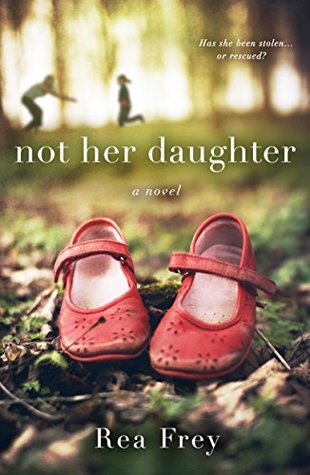 Gripping, emotional, and wire-taut, Not Her Daughter raises the question of what it means to be a mother—and how far someone will go to keep a child safe.
Emma Townsend. Five years old. Gray eyes, brown hair. Missing since June.
Emma is lonely. Living with her cruel mother and clueless father, Emma retreats into her own world of quiet and solitude.
Sarah Walker. Successful entrepreneur. Broken-hearted. Kidnapper.
Sarah has never seen a girl so precious as the gray-eyed child in a crowded airport terminal. When a second-chance encounter with Emma presents itself, Sarah takes her—far away from home. But if it's to rescue a little girl from her damaging mother, is kidnapping wrong?
Amy Townsend. Unhappy wife. Unfit mother. Unsure whether she wants her daughter back.
Amy's life is a string of disappointments, but her biggest issue is her inability to connect with her daughter. And now Emma is gone without a trace.
As Sarah and Emma avoid the nationwide hunt, they form an unshakeable bond. But what about Emma's real mother, back at home?
And 
Anything can happen behind closed doors…
The gripping new novel from the author of bestseller THE NEXT GIRL. Her Final Hour will have you hooked!
Melissa Sanderson is the perfect wife and mother. She dotes on her daughter, and lives in her dream home in a quiet cul-de-sac in the suburbs.
But looks can be deceiving. 
Something is amiss in that house – all the neighbours think so. Some say Melissa is having an affair. Others say she's been drinking too much.
Then one night, sirens wake up the whole neighbourhood.
Melissa Sanderson is dead.
This is the second book in a series, and I absolutely loved the first.
And 
This is another series that I love!
I hope you have had a wonderful weekend. It is almost Monday here in New Zealand, so I'm heading off to bed to try and get a few hours sleep before I start the new working week.
Happy reading
Cheers
Sandy