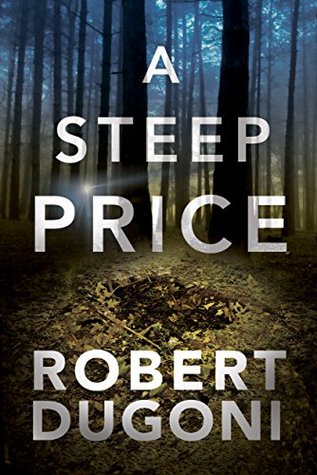 A Steep Price (Tracy Crosswhite, #6)
by
Reviewed by

EXCERPT: The daylight had nearly extinguished, the forest now an ever-deepening gray. It was time to go home.
Something moved. She turned.
Something in the brush. She turned again, then a third time. Something circling her.
She turned yet again, but saw only the trees, straight and tall, like darkened sentries. She fought to hold her breath, struggling to listen. The crickets clicked and the unseen insects buzzed. A light breeze caught the limbs of the trees, causing them to moan and creak. A bullfrog croaked.
She took another deep breath, exhaled, and turned to leave.
ABOUT THIS BOOK: Called in to consult after a young woman disappears, Tracy Crosswhite has the uneasy feeling that this is no ordinary missing-persons case. When the body turns up in an abandoned well, Tracy's suspicions are confirmed. Estranged from her family, the victim had balked at an arranged marriage and had planned to attend graduate school. But someone cut her dreams short.
Solving the mystery behind the murder isn't Tracy's only challenge. The detective is keeping a secret of her own: she's pregnant. And now her biggest fear seems to be coming true when a new detective arrives to replace her. Meanwhile, Tracy's colleague Vic Fazzio is about to take a fall after his investigation into the murder of a local community activist turns violent and leaves an invaluable witness dead.
Two careers are on the line. And when more deadly secrets emerge, jobs might not be the only things at risk.
MY THOUGHTS: 3.5 stars
For some reason A Steep Price failed to excite me like the other books in this series, which I have followed from the beginning, did.
Multiple Choice – pick one or more options from the following list –
(a) Lacks the action and suspense of previous books in the series.
(b) I'm tired, as is the series.
(c) Having alternating chapters, each dealing with one of the two cases, was distracting. Life doesn't work like that. Usually things overlap and run into one another.
(d) There was something missing. The characters all felt flat. . .
(e) I don't generally enjoy reading about drug running and gangs.
There are no wrong answers. All apply for me.
This should have worked for me. Dugoni makes a good job of misdirecting the reader. There is plenty of human interest in the plot, which is current and relevant. Strangely enough, I found the acknowledgements to be more interesting than the actual book. I enjoyed reading about how Dugoni had come to write this book after he had read separate articles about arranged marriages and sugar dating.
In retrospect, I think that this book would have benefited from Dugoni sticking to the one storyline within the plot and writing about it in more depth. The whole drug/gang scenario only served to muddy the waters and detract from what could have been an excellent story.
Thank you to Thomas and Mercer via Netgalley for providing a digital ARC of A Steep Price by Robert Dugoni for review. All opinions expressed in this review are entirely my own personal opinions.
Please refer to my Goodreads.com profile page or the 'about' page on sandysbookaday.wordpress.com for an explanation of my rating system.
This review and others are also published on my Goodreads.com page https://www.goodreads.com/review/show/2283386556