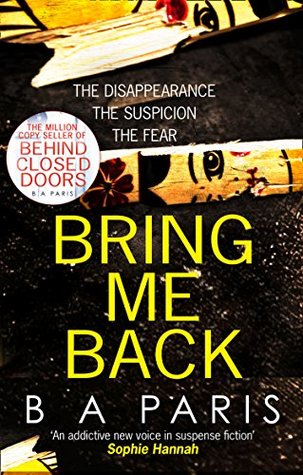 EXCERPT: Everything – all this – would be much easier if Ellen and I had fallen in love with other people instead of each other. It shouldn't matter that Ellen is Layla's sister, not when twelve years have passed since Layla's disappeared.
But, of course, it does.
ABOUT THIS BOOK: Finn and Layla are young, in love, and on vacation. They're driving along the highway when Finn decides to stop at a service station to use the restroom. He hops out of the car, locks the doors behind him, and goes inside. When he returns Layla is gone—never to be seen again. That is the story Finn told to the police. But it is not the whole story.
Ten years later Finn is engaged to Layla's sister, Ellen. Their shared grief over what happened to Layla drew them close and now they intend to remain together. Still, there's something about Ellen that Finn has never fully understood. His heart wants to believe that she is the one for him…even though a sixth sense tells him not to trust her.
Then, not long before he and Ellen are to be married, Finn gets a phone call. Someone from his past has seen Layla—hiding in plain sight. There are other odd occurrences: Long-lost items from Layla's past that keep turning up around Finn and Ellen's house. Emails from strangers who seem to know too much. Secret messages, clues, warnings. If Layla is alive—and on Finn's trail—what does she want? And how much does she know?
A tour de force of psychological suspense, Bring Me Back will have you questioning everything and everyone until its stunning climax.
MY THOUGHTS: Bring Me Back is the first book I have read by B. A. Paris, about whose writing I have heard so many great things. I won't be disputing any of them. I picked this up to read when I got home from work, tired and grumpy, yesterday afternoon and didn't put it down until I finished late last night. I couldn't put it down. I would have bitten off any hand that tried to separate me from it.
WOW! Gripping. Addictive. Paris had my mind spinning with possible scenarios which kept changing with each turn of the page.
And plausible. . . Just how secure would you feel being the fiance of the man who loved your sister, the sister who disappeared under suspicious circumstances some years earlier? Similarly, would you wonder, if you were him, why the sister of your previous love has fallen for you when you were a suspect in her disappearance?
Cleverly crafted, the story is told from both Finn's and Layla's points of view, both at the time of her disappearance and now, when the appearance of the smallest in the set of Russian dolls has driven a small but perceptible wedge between Finn and Ellen.
Clever. Very clever Ms. Paris. I love it!
Thank you to St Martin's Press via Netgalley for providing a digital ARC of Bring Me Back by B. A. Paris for review. All opinions expressed in this review are entirely my own personal opinions.
Please refer to my Goodreads.com profile page or the 'about' page on sandysbookaday.wordpress.com for an explanation of my rating system.
This review and others are also published on my Goodreads.com page https://www.goodreads.com/review/show/2283389441