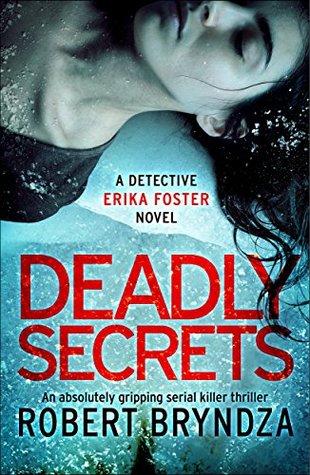 Deadly Secrets (Detective Erika Foster, #6)
by
Reviewed by

Sandy *The world could end while I was reading and I would never notice* Jones
bookshelves: 2018, favourite-author, netgalley-arc, 5-star,contemporary-fiction, crime, murder-mystery, police-procedural, suspense,thriller, detective-fiction, series
EXCERPT: Marissa reached up to put her key in the lock, but the gate creaked behind her. She froze. There was a faint scrape, and then a crunch of feet on the snow. She slowly turned.
A figure in a long black trench coat stood behind her. Its face covered in a gas mask, with a hood made of shiny black leather, tightly enveloping the skull. Two large round glass eyeholes stared blankly, and the drum, or breathing apparatus, elongated the face down to where it hung just above the chest. The figure wore black gloves, and in its left hand was a long, thin knife.
ABOUT THIS BOOK: To commit the perfect murder, you need the perfect cover.
On a cold icy morning, a mother wakes to find her daughter's blood-soaked body frozen to the road. Who would carry out such a horrific killing on the victim's doorstep?
Straight off her last harrowing case, Detective Erika Foster is feeling fragile but determined to lead the investigation. As she sets to work, she finds reports of assaults in the same quiet South London suburb where the woman was killed. One chilling detail links them to the murder victim – they were all attacked by a figure in black wearing a gas mask.
Erika is on the hunt for a killer with a terrifying calling card. The case gets more complicated when she uncovers a tangled web of secrets surrounding the death of the beautiful young woman.
Yet just as Erika begins to piece the clues together, she is forced to confront painful memories of her past. Erika must dig deep, stay focused and find the killer. Only this time, one of her own is in terrible danger…
MY THOUGHTS: 'From the global million-copy bestselling author comes a totally heart-racing, hold-your-breath read that will keep you hooked until the very last page.' reads the publicity blurb. And it's right, 100%.
I picked up Deadly Secrets late in the afternoon, and read until it was finished, not daring to take my eye from the page. I love Bryndza's writing, have loved every one of the books in this series, but with Deadly Secrets he has surpassed himself. We need more than 5-stars!
Although he has produced an enthralling thriller, he also displays a sense of humour – there were a couple of places in Dark Secrets where I almost choked with laughter.
Erika's character continues to grow. Despite the years that have passed, she is still very emotionally attached to her deceased husband, Mark, although she is beginning to realise that she needs to carve out a new life for herself, and that may include someone new to share her life with.
Erika has lost no enthusiasm for her work, still feeling that frisson of both horror and excitement at the outset of a new murder case. But she has never lost her humanity, never become hardened by what she sees.
It is good to see Patterson back at work, albeit with a secret of his own, and Moss taking a more prominent role in this case.
Although Deadly Secrets could be read as a stand-alone, I strongly recommend that you start with the first book in the series to get the most from this magnificent crime thriller. I have read some brilliant books this year, but with Deadly Secrets, Bryndza tops the lot!
Thank you to Bookouture via Netgalley for providing a digital copy of Deadly Secrets by Robert Bryndza for review. All opinions expressed in this review are entirely my own personal opinions.
Please refer to my Goodreads.com profile page or the 'about' page on sandysbookaday.wordpress.com for an explanation of my rating system.
This review and others are also published on my Goodreads.com page https://www.goodreads.com/review/show/2338664588