Looking for something to read over the weekend?
Nothing on your book radar that is screaming "read me!"?
Check out my Friday Favorite  – it may not be new, it may not even be by an author you have ever heard of, but it will be a book that has captured both my imagination and my heart.
This is a debut novel by a new author that just blew me away!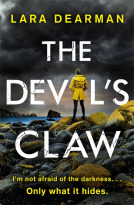 Reviewed by

EXCERPT: Naked, her breasts and hips were heavier than he thought they would be and he wondered if he should feel disappointed, but he forced himself to concentrate on her slim waist and her skin. Her skin was perfect. White, like moonlight. He thought how wonderful they must look together, two beautiful people, happy and free, and how important this was, that he saved her. From the filth and the alcohol and the little people and the loathsome, repellent men, whose hands would never touch her again. She ran to the water. He followed. Their bodies clothed in darkness, their footsteps silent on the soft sand, their splashing obscured by the breaking of the waves, he pulled her towards him. Stroked her arms, from her wrists, over smooth skin, soft hairs tickling his fingers, to her elbows, which were bony and rough, and then up to her shoulders. She shook. Laughed. He pushed her under. She was smiling as her head dipped below the water, her hair fanning out on the surface, spun gold, like in a fairy tale, rippling and flowing, a life of its own. She didn't struggle, not at first. It took her a moment, he supposed to understand. And then he felt her, bucking and thrashing, her screams silent, carried away with the tide. Gently, but firmly, he held on. And then she was still. So, so still. He held her limp body against his in the water. Absorbed the heat as it left her. Stayed there for as long as he could, until he was sure he had taken as much of her warmth as he could.
THE BLURB: Jennifer Dorey thinks she is safe.
Following a traumatic incident in London, Jennifer has returned to her childhood home in Guernsey, taking a job as a reporter at the local newspaper.
After the discovery of a drowned woman on a beach, she uncovers a pattern of similar deaths that have taken place over the past fifty years.
Together with DCI Michael Gilbert, an officer on the verge of retirement, they follow a dark trail of island myths and folklore to 'Fritz', the illegitimate son of a Nazi soldier. His work, painstakingly executed, has so far gone undetected.
But with his identity about to be uncovered, the killer now has Jennifer in his sights.
And home is the last place she should be.
MY THOUGHTS: The Devil's Claw is a debut novel by Lara Dearman. And it is good. Amazingly good. I knew that after the first five minutes of reading. It just felt so right. Don't mind me, I have a book hangover. Hours after finishing, the plot and the characters are still buzzing around in my brain. Not even a trip to the supermarket for the weekly shop has dampened my enthusiasm.
I felt like I was there, in the novel, living alongside the characters, experiencing what they were. The story is mainly told from Jenny's point of view, and that of DCI Michael Gilbert, with occasional flashbacks from the unknown killer starting in 1959, and moving forward a decade with each kill.
I had three suspects in mind for the killer, and I am pleased to say was right with one of them, though he wasn't my first pick. Dearman has crafted an intricate plot, full of misleading clues, that will keep you turning the pages late into the night.
Along the way, we learn quite a bit about the history of Guernsey, its legends and folklore, all of which adds to the atmosphere Dearman has so cleverly created.
There was nothing I didn't like about The Devil's Claw. A very enthusiastic ☆☆☆☆☆ from me for this slow burning book that develops into a raging bonfire. I sincerely hope Lara is busy writing #2 in the series.
Thank you to Crooked Lane Books via Netgalley for providing a digital copy of The Devil's Claw by Lara Dearman for review. All opinions expressed in this review are entirely my own personal opinions. Please refer to my Goodreads.com profile page or the 'about' page on sandysbookaday.wordpress.com for an explanation of my rating system. This review and others are also published on my Goodreads.com page https://www.goodreads.com/review/show/2259600121