Looking for something to read over the weekend?
Nothing on your book radar that is screaming "read me!"?
Check out my Friday Favorite  – it may not be new, it may not even be by an author you have ever heard of, but it will be a book that has captured both my imagination and my heart.
I joined Goodreads.com in 2014 and, if I remember correctly, The Rosie Project was the first book I gave a ☆☆☆☆☆ review.
Asperger's is a subject dear to my heart. My youngest brother has Asperger's, and I can see so much of him in Don Tillman. Thank you Graeme Simsion for giving me some insight into my brother's world.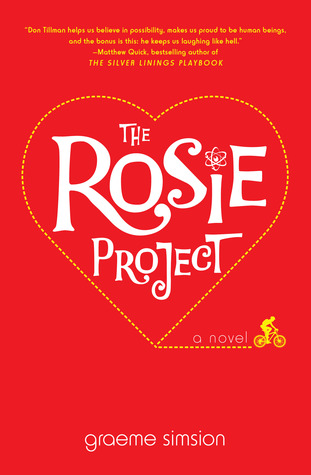 The Rosie Project (Don Tillman, #1)
by
Graeme Simsion
(Goodreads Author)
Reviewed by
EXCERPT: I may have found a solution to the Wife Problem. As with so many scientific breakthroughs, the answer was obvious in retrospect. But had it not been for a series of unscheduled events, it is unlikely I would have discovered it.
The sequence was initiated by Gene's insisting I give a lecture on Asperger's syndrome that he had previously agreed to deliver himself. The timing was extremely annoying. The preparation could be time-shared with lunch consumption, but on the designated evening I had scheduled ninety-four minutes to clean my bathroom. I was faced with a choice of three options, none of them satisfactory.
1. Cleaning the bathroom after the lecture, resulting in loss of sleep with a consequent reduction in mental and physical performance.
2. Rescheduling the cleaning until the following Tuesday, resulting in an eight-day period of compromised bathroom hygiene and consequent risk of disease.
3. Refusing to deliver the lecture, resulting in damage to my friendship with Gene.
I presented the dilemma to Gene, who, as usual, had an alternative solution.
"Don, I'll pay for someone to clean your bathroom."
I explained to Gene—again—that all cleaners, with the possible exception of the Hungarian woman with the short skirt, made errors. Short-Skirt Woman, who had been Gene's cleaner, had disappeared following some problem with Gene and Claudia.
"I'll give you Eva's mobile number. Just don't mention me."
"What if she asks? How can I answer without mentioning you?"
"Just say you're contacting her because she's the only cleaner who does it properly. And if she mentions me, say nothing."
This was an excellent outcome, and an illustration of Gene's ability to find solutions to social problems. Eva would enjoy having her competence recognized and might even be suitable for a permanent role, which would free up an average of 316 minutes per week in my schedule.
THE BLURB: An international sensation, this hilarious, feel-good novel is narrated by an oddly charming and socially challenged genetics professor on an unusual quest: to find out if he is capable of true love.
Don Tillman, professor of genetics, has never been on a second date. He is a man who can count all his friends on the fingers of one hand, whose lifelong difficulty with social rituals has convinced him that he is simply not wired for romance. So when an acquaintance informs him that he would make a "wonderful" husband, his first reaction is shock. Yet he must concede to the statistical probability that there is someone for everyone, and he embarks upon The Wife Project. In the orderly, evidence-based manner with which he approaches all things, Don sets out to find the perfect partner. She will be punctual and logical—most definitely not a barmaid, a smoker, a drinker, or a late-arriver.
Yet Rosie Jarman is all these things. She is also beguiling, fiery, intelligent—and on a quest of her own. She is looking for her biological father, a search that a certain DNA expert might be able to help her with. Don's Wife Project takes a back burner to the Father Project and an unlikely relationship blooms, forcing the scientifically minded geneticist to confront the spontaneous whirlwind that is Rosie—and the realization that love is not always what looks good on paper.
The Rosie Project is a moving and hilarious novel for anyone who has ever tenaciously gone after life or love in the face of overwhelming challenges.
MY THOUGHTS: I always studiously avoid anything referred to as hilarious, as i usually find them just plain stupid.
The Rosie Project is the exception to the rule.
I found myself howling with laughter (in public places), and once, rolling around on the floor!
A/Professor of genetics, Don Tillman, wants to get married. He doesn't require love (an emotional complication he can well live without and does not recognise), but he has a stringent list of requirements for his intended and develops a scientific questionnaire to weed out all those 'undesirables' without having to resort to the disastrous dates of the past.
My favorite quote from the book is "But I'm not good at understanding what other people want.'
'Tell me something I don't know,' said Rosie for no obvious reason.
I quickly searched my mind for an interesting fact.
'Ahhh…The testicles of drone bees and wasp spiders explode during sex."
This would be one of my top five books of the year. A great read 8:D
All opinions expressed in this review are entirely my own personal opinions. Please refer to my Goodreads.com profile page or the 'about' page on sandysbookaday.wordpress.com for an explanation of my rating system. This review and others are also published on my Goodreads.com page https://www.goodreads.com/review/show/1103163718