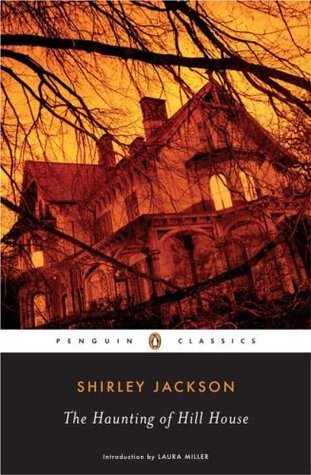 The Haunting of Hill House
by
Shirley Jackson
, 
Laura Miller

Reviewed by
EXCERPT: Hill House, not sane, stood by itself against its hills, holding darkness within; it had stood so for eighty years and might stand for eighty more. Within, walls continued upright, bricks met neatly, floors were firm, and doors were sensibly shut; silence lay steadily against the wood and stone of Hill House, and whatever walked there, walked alone.
THE BLURB: First published in 1959, Shirley Jackson's The Haunting of Hill House has been hailed as a perfect work of unnerving terror. It is the story of four seekers who arrive at a notoriously unfriendly pile called Hill House: Dr. Montague, an occult scholar looking for solid evidence of a "haunting"; Theodora, his lighthearted assistant; Eleanor, a friendless, fragile young woman well acquainted with poltergeists; and Luke, the future heir of Hill House. At first, their stay seems destined to be merely a spooky encounter with inexplicable phenomena. But Hill House is gathering its powers—and soon it will choose one of them to make its own.
MY THOUGHTS: Am I the only person not terrified by The Haunting of Hill House by Shirley Jackson? Don't get me wrong I enjoyed the story, but not once did I feel a little frisson of fear, not once did I hold my breath in anticipation, jump at an unexpected noise or glance nervously over my shoulder.
The majority of the story is told from Eleanor's point of view. I liked Eleanor. I liked her flights of fancy, the way her imagination runs away with her, so that she presents things that she would like to be true as the truth. I felt sorry for her especially as after having looked after her mother until her death, (and did Eleanor have a hand in that?) she finds herself living with her older married sister and her husband and child, being put upon by them and treated almost as a child. I think that, had I been in Eleanor's place, I also would have seized any excuse to escape the family confines. All Eleanor really wants is to be wanted, to belong, and she thinks that she has found this amongst her companions at Hill House. She is a vulnerable soul, almost childlike in her efforts to be liked and her reactions when she is ignored.
The other wonderful character is the housekeeper, Mrs Dudley, whom I am sure is closely related to Mrs Danvers.
All together, this was an interesting read; not creepy, not frightening, but interesting. I don't know that I would even call it a 'ghost' story, although there are supernatural events. 3.5 stars and I may just be tempted to try some of Shirley Jackson's other works.
I listened to the audio book of The Haunting of Hill House by Shirley Jackson, narrated by Bernadette Dunne via OverDrive. All opinions expressed in this review are entirely my own. Please refer to my Goodreads.com profile page or the 'about' page on sandysbookaday.wordpress.com for an explanation of my rating system. This review and others are also published on my Goodreads.com page https://www.goodreads.com/review/show/2186706677