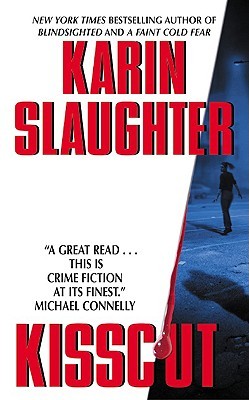 Kisscut (Grant County, #2)
by
Karin Slaughter
(Goodreads Author)
Reviewed by
Sandy *The world could end while I was reading and I would never notice* Jones
bookshelves: 2017, audio, 5-star, author-i-want-to-read-more-of,contemporary-fiction, crime, family-drama, favourite-author, police-procedural, sandy-s-reading-retreat, suspense, thriller
EXCERPT: At twenty-eight weeks old, Jenny Weaver's child might have been viable outside the womb had its mother not tried to flush it down the toilet. The foetus was well developed and well nourished. The brain stem was intact and, with medical intervention, the lungs would have matured over time. The hands would have learned to grasp, the feet to flex, the eyes to blink. Eventually, the mouth would have learned to speak of something other than the horrors it spoke to Sara of now. The lungs had taken breath, the mouth gasped for life. And then it had been killed.
For the past three-and-a-half hours, Sara had tried to reassemble the baby from the parts Jenny Weaver had left in the bathroom and in the red book bag they found in the trash by the video game room. Using tiny sutures instead of the usual baseball stitches, Sara had sewn the paper thin flesh back together into the semblance of a child. Her hands shook, and Sara had redone some of the knots because her fingers were not nimble enough on the first try.
Still, it was not enough. Working on the child, tying the tiny sutures, was like pulling a thread on a sweater. For every area repaired, there was another that could not be concealed. There was no disguising the trauma the child had been through. In the end, Sara had finally accepted that her self-appointed task was an exercise in futility. The baby would go to the grave looking much the way it had looked the last time her mother had seen her.
THE BLURB: Saturday night dates at the skating rink have been a tradition in the small southern town of Heartsdale for as long as anyone can remember, but when a teenage quarrel explodes into a deadly shoot-out, Sara Linton–the town's pediatrician and medical examiner–finds herself entangled in a terrible tragedy.
What seemed at first to be a horrific but individual catastrophe proves to have wider implications. The autopsy reveals evidence of long-term abuse, of ritualistic self -mutilation, but when Sara and police chief Jeffrey Tolliver start to investigate, they are frustrated at every turn.
The children surrounding the victim close ranks. The families turn their backs. Then a young girl is abducted, and it becomes clear that the first death is linked to an even more brutal crime, one far more shocking than anyone could have imagined. Meanwhile, detective Lena Adams, still recovering from her sister's death and her own brutal attack, finds herself drawn to a young man who might hold the answers. But unless Lena, Sara, and Jeffrey can uncover the deadly secrets the children hide, it's going to happen again . . .
MY THOUGHTS: Grant County is a series that needs to be read in order, from the beginning, to get the full benefit from the storyline.
Kisscut by Karin Slaughter is not a pretty story. It is not a pleasant read. It contains references to child abuse, and while it doesn't go into specific detail, we all know enough to fill in the blanks. But Kisscut is compelling reading. Even though this is a reread for me, I found myself totally embroiled in the plot and the fates of the characters.
This is Slaughter at her best, and I still love the Grant County series best of all.
I listened to Kisscut by Karin Slaughter,narrated by Kathleen Early, on audiobook via OverDrive. All opinions expressed in this review are entirely my own. Please refer to my Goodreads.com profile page or the 'about' page on sandysbookaday.wordpress.com for an explanation of my rating system. This review and others are also published on my Goodreads.com page https://www.goodreads.com/review/show/2177382184