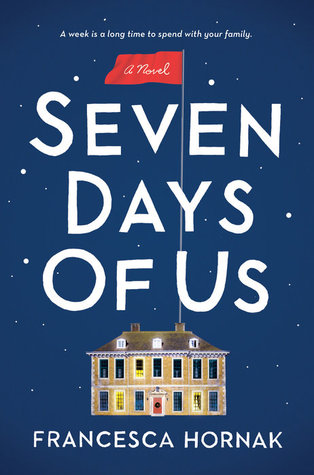 Seven Days of Us 
by Francesca Hornak (Goodreads Author)
EXCERPT: Here it was, the voice he had been half dreading, half expecting. He thought back to that sultry night in Beirut 1980, the one he had tried to convince himself had never happened. And then he thought of the strange little letter that Leila Deeba had written him eighteen months ago, which had been forwarded from The World's offices. He still had it, hidden from Emma. 'My late birth mother was …' So the glorious, firm-bodied woman he had fucked between hotel sheets was dead. He stood up and stared out of the rain-flecked window. 'Frosty the Snowman' came floating up from the basement kitchen. How had he reached an age when a woman he had slept with could be dead – and it wasn't even remarkable? It was a bleak train of thought, and he forced himself back to the present. What, if anything, ought he to reply to this man? And, more to the point, what on earth was he going to tell Emma?
THE BLURB: A warm, wry, sharply observed debut novel about what happens when a family is forced to spend a week together in quarantine over the holidays…
It's Christmas, and for the first time in years the entire Birch family will be under one roof. Even Emma and Andrew's elder daughter—who is usually off saving the world—will be joining them at Weyfield Hall, their aging country estate. But Olivia, a doctor, is only coming home because she has to. Having just returned from treating an epidemic abroad, she's been told she must stay in quarantine for a week…and so too should her family.
For the next seven days, the Birches are locked down, cut off from the rest of humanity—and even decent Wi-Fi—and forced into each other's orbits. Younger, unabashedly frivolous daughter Phoebe is fixated on her upcoming wedding, while Olivia deals with the culture shock of being immersed in first-world problems.
As Andrew sequesters himself in his study writing scathing restaurant reviews and remembering his glory days as a war correspondent, Emma hides a secret that will turn the whole family upside down.
In close proximity, not much can stay hidden for long, and as revelations and long-held tensions come to light, nothing is more shocking than the unexpected guest who's about to arrive…
MY THOUGHTS: Written in short chapters, alternating between the members of the Birch family and their unexpected guest, who finds himself in a situation he could never have imagined, this is an emotional and sometimes amusing story of a family forced to spend seven days sequestered together cut off from the outside world.
Previously the author of two non-fiction books and numerous newspaper and magazine articles, this is Hornak's first foray into the world of the fictional novel. And it is an impressive foray. She displays a great descriptive turn of phrase, describing age spotted mirrors as being like over-ripe bananas. She also has a good understanding of family dynamics and a talent for conveying them, realistically, into words. You will grow to both love and detest her characters, you will want to hug them and slap some sense into them.
This is not a book that is going to set the world on fire. It is a book that is a quietly satisfying read and should be read with a supply of tissues within easy reach.
Seven Days of Us by Francesca Hornak is due to be published 31st October 2017.
Thank you to Hachette Australia via Netgalley for providing a digital copy of The Seven Days of Us by Francesca Hornak for review. All opinions expressed in this review are entirely my own. Please refer to my Goodreads.com profile page or the 'about' page on sandysbookaday.wordpress.com for an explanation of my rating system. This review and others are also published on my Goodreads.com page https://www.goodreads.com/review/show/2160249104