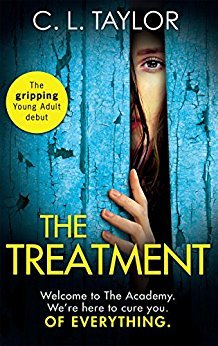 The Treatment
by
C.L. Taylor
(Goodreads Author)
Reviewed by
EXCERPT: I slip into the single stall toilet at the back of the cafe. I hold it together long enough to close the door and lock it and then I rest my arms on the wall and burst into tears. I'm still crying when I sit down on the closed toilet lid and reach into my pocket. Tears roll down my cheeks as I pull out the note that Dr Cobey thrust into my hands. They plop onto the paper as I carefully unfold it. I read the words Mason has scribbled in blue biro. I read them once, twice, three times and the tears dry in my eyes.
I'm not sad and confused any more. I'm terrified.
THE BLURB: "You have to help me. We're not being reformed. We're being brainwashed."
All sixteen year old Drew Finch wants is to be left alone. She's not interested in spending time with her mum and stepdad and when her disruptive fifteen year old brother Mason is expelled from school for the third time and sent to a residential reform academy she's almost relieved.
Everything changes when she's followed home from school by the mysterious Dr Cobey, who claims to have a message from Mason. There is something sinister about the 'treatment' he is undergoing. The school is changing people.
Determined to help her brother, Drew must infiltrate the Academy and unearth its deepest, darkest secrets.
MY THOUGHTS: There were a lot of things I liked about The Treatment, C. L. Taylor's debut Young Adult novel, and a few things I disliked, which resulted in a 3.5 star rating.
This was, for most part, a fast paced read. The plot flowed well, mostly. I had trouble with the ease with which Drew was bundled off to the reform school. I know her step-father is involved in the process, but there is a reason he should, to my mind, be keeping Drew and Mason well away from there, not facilitating their admission. This is only one instance for which I had to suspend rationality and go with the storyline.
The ending, I felt, was over simplified. And rushed. Our young adults are a great deal more savy than I was at that age, and I was an advanced reader. I was tempted to get my ten year old grandson to read this to see what he thought because I am certain he would have picked up on most of the same things I did.
Having said that, I found most of the book to be riveting, an exciting adventure, one I didn't want to put down in favor of sleep last night.
I think this book is probably suited to the younger end of the young adult spectrum.
The Treatment by C. L. Taylor is due to be published October 23, 2017.
Thank you to Harlequin Australia via Netgalley for providing a digital copy of The Treatment for review. All opinions expressed in this review are entirely my own. Please refer to my Goodreads.com profile page or the 'about' page on sandysbookaday.wordpress.com for an explanation of my rating system. This review and others are also published on https://www.goodreads.com/review/show/2142848716