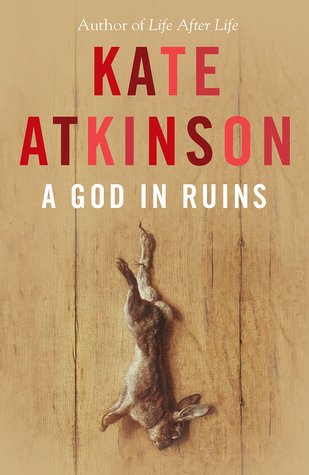 A God in Ruins (Todd Family, #2)
by
Kate Atkinson
Reviewed by
EXCERPT: What 
had 
gone into the making of Teddy? Not slugs and snails, it was true, but generation upon generation of Beresfords and Todds, all coming to one singular point in a cold bed in the chill of an autumn night when his father had caught hold of the golden rope of his mother's hair and hadn't let go until he had hauled them both to the far shore (they had many euphemisms for the act). As they lay amongst the shipwreck of the marital bed they each felt slightly befuddled by the unexpected ardor of the other. Hugh cleared his throat and murmured, 'A voyage into the deep, eh?' Sylvie said nothing as she felt the seafaring metaphor had been stretched far enough.
But the grain had entered the shell (Sylvie's own metaphoric stance) and the pearl that would be Edward Beresford Todd began to grow until he was revealed into the sunshine that came before the Great War and lay happily for hours on end in his pram with nothing but a silver hare dangling from the pram hood for company.
THE BLURB: In Life After Life Ursula Todd lived through the turbulent events of the last century again and again. In A God in Ruins, Atkinson turns her focus on Ursula's beloved younger brother Teddy – would-be poet, RAF bomber pilot, husband and father – as he navigates the perils and progress of the 20th century. For all Teddy endures in battle, his greatest challenge will be to face living in a future he never expected to have.
MY THOUGHTS: This is a complex book. There seems to be no order to it. It randomly jumps from Teddy's childhood, to his old age, to his war years and back, interspersed with the lives of his one daughter, Viola, and her two children, Sunny and Bertie, and back again.
And yet, with her own inimitable style, Kate Atkinson pulls it off and rather splendidly at that. It is like sitting with a loved elderly relative, listening to them reminisce, where one memory leads to another, the tenuous thread that connects them known only to the narrator. And yet Atkinson draws you into this family. I laughed, I cried. I seethed at Viola's indifference to her children, her father. I flew with Teddy on his sorties over Germany, crossing my fingers to keep him safe. I applauded his rescue of Sunny (aka Philip Villiers) from the Villiers enclave, and his careful nurturing of Bertie. And I wept at his gentle decline in residential care.
This is both a heart-wrenching and heartwarming read.
All opinions expressed in this review are entirely my own. Please refer to my Goodreads.com profile page or the 'about' page on sandysbookaday.wordpress.com for an explanation of my rating system. This review and others are also published on https://www.goodreads.com/review/show/2133985806?book_show_action=false&from_review_page=1