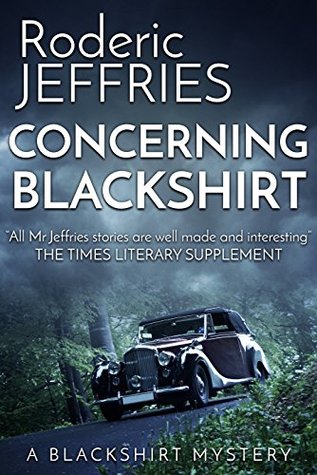 Concerning Blackshirt
by
Roderic Jeffries
This is the third book by Roderic Jeffries that I have read, but the first of the Blackshirt series and, liking-wise, it falls right in the middle with a 3.5☆ rating.
AN EXTRACT:  ' "Dead! How? "
"He had an accident late last night. He was unfortunate enough to fall in the river, which as you know runs past his garden. He must have fallen, knocked himself unconscious, then have rolled in the river and drowned. He was inclined to be a little careless."
It was all too obvious that these men did not stand for the slightest incompetence. If one of their members failed, then he was eliminated. It wasa ruthlessness foreign to the English mentality.
"Who killed him?" asked Verrall.
"The Coroner will bring in a verdict of accidental death. "
"That's not what I asked. "
"Mr Verrall, you do not seem to realize your position. You appear to treat the matter as though it were a bit of a lark – something to break the monotony of ordinary existence. At the moment, you are alive. I assure you, an accident can quite easily be arranged."'
THE BLURB: Richard Verrell is looking forward to a quiet weekend in Kent.
It certainly starts out that way – that is until he wanders across his host's fields for a spot of rough-shooting.
Coming across a little garden shed, he's amazed to find an immense 'blower four and a half' Bentley inside.
Arriving back at the house, he convinces himself that something isn't right and returns to the shed accompanied by his host.
To their horror, they find themselves under heavy gunfire before the Bentley roars to a hurried getaway.
Unhurt, they manage to scurry to safety to another nearby shed – where Verrell trips over the body of a dead man.
Would any man ask for a better incentive to rush headlong into an affair that does not in the least concern him? Certainly Blackshirt would not.
But then Blackshirt is … Blackshirt.
Chasing women, money, revolvers and dangerous secrets, Blackshirt sets out to get to the bottom of his gruesome discovery…
MY VIEWS: If you like a fast paced spy thriller set post WWII complete with wonderful cars, car chases and lots of action and subterfuge, then Concerning Blackshirt is a must on your reading list. I salivated over the Bentley and the description of its performance, although my personal dream car is the 1938 Alfa Romeo 6C 2300B Mille Miglia Spyder.
There were numerous things that I liked about this book, which more than compensated for my general dislike of spy novels. Of course there were the cars, of which the author spends quite a bit of time describing both the appearance and the performance. I learned a new word-  bolide ', which when taken in the context of the Bentley, means 'missile '. There is also the era in which it is set, which I gather is the late 1940's, perhaps early 1950's. There is the absolute 'Englishness' of it, the language, the attitudes, the class system, still very much in evidence, though obviously on the decline in this book. And the characterisation, which is superb.
Verrall, the central character, is a best-selling author by day with the alter-ego of Blackshirt, a daring and most wanted criminal by night. He is described as having the mischievous nature of a man who has never grown up, and admits that he is happiest when faced with danger. It is not enough for him to merely write about crime and spies, he must live it.
Thank you to Endeavour Press for providing a digital copy of Concerning Blackshirt for review. All opinions expressed in this review are entirely my own. Please refer to my Goodreads.com profile page for an explanation of my ratings.
Please check out this and other of my reviews at https://www.goodreads.com/review/show/2119244897